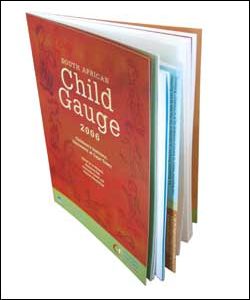 With the African National Congress declaring 2007 as The Year to Intensify the Struggle Against Poverty, the timing could not be have been more perfect for the Children's Institute (CI) to release the South African Child Gauge 2006, which reviews government programmes to support children living in poverty.
In the second year of its publication, the South African Child Gauge is an annual snapshot of the realities South African children face. In 2005 the South African Child Gauge looked at the critical issue of HIV/AIDS and children. The latest volume explains that HIV/AIDS exacerbates the high levels of child poverty in South Africa, which are attributed to high unemployment and our apartheid legacy.
The 2006 issue of the South African Child Gauge examines key government policies, laws and programmes, like the Child Support Grant and No-fee Schools Policy, to report on how far children's socio-economic rights are realised.
Their main target market? Government. But the book also sparks much interest from non-governmental organisations and academia, says co-editor and CI communications manager Charmaine Smith.
"It informs their work and helps with the planning of interventions for children," she said.
Part one of the book states that various positive amendments made over the past year and a half could greatly improve children's access to socio-economic goods and services.
The South African Child Gauge of 2006 is accompanied by a pull-out map of South Africa, providing a provincial reference to a few socio-economic indicators. In the Western Cape, for instance, almost one-third of the 1.5 million children live in overcrowded dwellings. On the upside, the province has the lowest HIV-prevalence rate among children (0.8%) and the highest proportion of children receiving antiretroviral treatment (61%).
The data for the pull-out map, and the child-centred data at the back of the book on children's access to social assistance, education, housing, health and other services, comes from the Children's Institute Children Count - Abantwana Babalulekile Project. To download the South African Child Gauge 2006 click here.
---
This work is licensed under a Creative Commons Attribution-NoDerivatives 4.0 International License.
Please view the republishing articles page for more information.
---