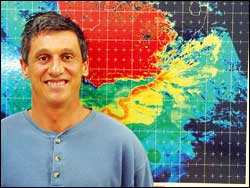 Against the stream: Oceanographer Dr Mathieu Rouault, whose work with Kiel University's Emeritus Professor Gerold Siedler, an Alexander von Humboldt Fellow at UCT last year, led to a description of the structure, transport and origin of the new South Indian Ocean Countercurrent, named by Dutch researchers.
Twenty years ago scientists may have raised their eyebrows if you'd told them there was a current in the South Indian Ocean that bucked oncoming traffic - millions of cubic metres of water flowing west - to loop around and flow back east.
Oceanographers of old traced currents by throwing bottles into the sea to detect the general pattern. But few would have guessed at an anomaly like a counter current to the east against the predominant flow to the west, halfway between Madagascar and Australia.
The discovery was made by UCT's Dr Mathieu Rouault, a chief research officer in the Department of Oceanography, and Professor Gerold Siedler, an Alexander von Humboldt Fellow at UCT in 2006.
Planning to study subtropical currents in the southern Indian Ocean, they scrutinised masses of satellite data on surface currents. While inspecting wave-like and eddy structures propagating to the west, they noted currents to the east, hidden in these structures. Examining several years of data, they realised they'd found a new and strong current, 50km to 100km wide, off the Madagascan coast at about 25oS to the east.
Later analyses of old oceanographic surveys confirmed the counter current - and indicated it was quite deep, up to 800m.
"But we need to go there to take measurements and confirm our study," Rouault said. "After all, it's very seldom one discovers a current without going there on a ship. A new, international programme, the Agulhas-Somali Large Marine Ecosystem study, will start soon in the Indian Ocean and I'll try to convince them to survey our current with us."
Recent studies by other groups using such satellite data indicate the existence of similar eastward counter currents in other oceans.
"I expect a series of new papers on this topic in the near future," Siedler added.
If currents and oceans affect the earth's delicate climate balance, what happens when you have a counter current slap bang in the middle of the ocean?
"It was usually assumed that the global current patterns in the sub-tropical regions depend mainly on north-south flows," Siedler said. "The new observations show that a considerable amount of water is transported west-east at these latitudes, and this fact will have to be considered in future models of ocean circulation and climate change."
The Agulhas Current off the South African coast is one of the strongest in the world ocean. The new South Indian Ocean Countercurrent has about one tenth of its transport - which makes it a strong current, Siedler said.
"However, we have to better understand how it is generated. The large-scale forcing by wind fields or the patterns of ocean-atmosphere water exchange in the southern Indian Ocean will be the key drivers. But it is not yet clear which process dominates.
"Considerable work remains to be done."
---
This work is licensed under a Creative Commons Attribution-NoDerivatives 4.0 International License.
Please view the republishing articles page for more information.
---