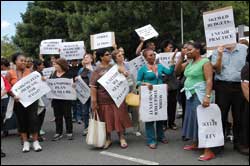 Picket line: UCT staff members took to the UCT streets last week as the Employees Union started a campaign of rolling strike action.
A group of around 400 staff members gathered on the rugby field last Friday to mark the start of rolling strike action called by the UCT Employees Union (UCTEU).
The strike came after negotiations between the union - which represents payclasses 5 to 12 - and UCT management stalled last week. Union members had rejected management's 2007 salary offer. Management's offer is a 5.5% increase in payscales. The packaging of the increase - in other words, determining the portion that would be across the board or performance-linked - is the subject of ongoing discussions.
"I believe our offer is fair and is affordable for the university," said Vice-Chancellor and Principal, Professor Njabulo S Ndebele, in a letter to staff last week. "It seems to me that we have agreement on most issues raised by the UCTEU on behalf of its members."
The main bugbear for the union, however, appears to be the performance management system, which union members described as vague and unfair.
"The system needs to be fixed," said union president Andrea Plos. "Staff still want performance management, but because the system isn't fixed, they want it to be just a small part of the percentage increase."
Which is why the union had demanded a salary hike of 7%, of which 5.5% would be an across-the-board increase, plus a further 1.5% allocated in accordance with the performance management system.
At the Friday gathering, union officials announced that they would start a campaign of rolling strike action on Monday, 19 February. Staff would gather at around 08h00, and return to work at 11h00. Further action would be announced later.
"The objective is maximum impact on the university, minimum impact on the individual," said the union's Hein Kleinbooi.
Strike action is not expected to interrupt any classes, said management.
---
This work is licensed under a Creative Commons Attribution-NoDerivatives 4.0 International License.
Please view the republishing articles page for more information.
---