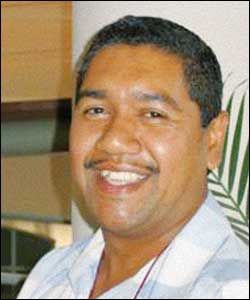 Dr Muazzam Jacobs
Twenty-two more UCT researchers have received National Research Foundation (NRF) ratings for the first time.
These rated researchers are Professor Raymond Abratt (radiation medicine), Professor Tom Bennett (public law), Professor Haroon Bhorat (economics), Associate Professor Chris Breen (education), Irwin Brown (information systems), Dr Aninda Chakraborty (chemical engineering), Dr Marc Combrinck (medicine), Aqiel Dalvie (public health and family medicine), Dr Collet Dandara (clinical laboratory sciences), Dr Frank Eckardt (environmental and geographical sciences), Dr Lawrence Edwards (economics), Dr Julia Goedecke (human biology), Dr Vandana Govan (clinical laboratory sciences), Professor Renkuan Guo (statistical sciences), Dr Muazzam Jacobs (clinical laboratory sciences), Dr Alison Joubert (statistical sciences), Professor Iain Low (architecture, geomatics and planning), Professor David Schalkwyk (English language and literature), Professor Trevor Sewell (electron microscope unit), Dr Tony Verboom (botany), Dr Ingrid Woolard (economics) and Associate Professor Heather Zar (child and adolescent health).
"I am delighted about the number and quality of our first-time applications," said Deputy Vice-Chancellor Professor Cheryl De la Rey. "Taking into consideration the number of retirees, there is still a net growth of NRF-rated researchers at UCT and many of these are young scholars.
"Another significant factor is that the applications are from across all the faculties. This augurs well for the future of scholarship at UCT."
---
This work is licensed under a Creative Commons Attribution-NoDerivatives 4.0 International License.
Please view the republishing articles page for more information.
---