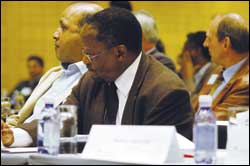 Reflection: VC and Principal Prof Njabulo S Ndebele, one of UCT's representatives at the signing of the Memorandum of Understanding between CHEC and PAWC at the Cape Town International Convention Centre.
The Western Cape should become a leading learning region in the country with the ability to attract innovators and a population of highly-skilled people, supporting high-value, cost-effective production, Premier Ebrahim Rasool told a gathering of Cape Higher Education Consortium (CHEC) members and representatives of the Provincial Government of the Western Cape (PGWC).
He was speaking at the signing of a Memorandum of Understanding (MoU) between CHEC and PAWC to develop shared strategies to spur social and economic development in the province.
There is misalignment between South African's further, higher and continuing education sectors and market demand. The result is a paradox: skilled foreign labour is being brought to a country with high levels of unemployment. In addition, graduate-level jobs in key sectors are not being filled, despite the numbers of students graduating each year.
Broadly, the MoU will promote the Western Cape as a "learning region", attracting students to the area and strengthening the higher education sector's contribution to the provincial economy. The intention of the MoU is to draw up a three-year plan to further common strategic initiatives.
Rasool said the occasion, attended by over 140 top representatives of higher education and local government, was historic.
"In the tumultuous history of this province, there has never been an occasion where the respective leaders of the universities and provincial government have come together like this in common purpose, to strengthen each other and to agree on joint actions to improve the quality of life and opportunity for everyone in the province."
He continued: "As a province we are uniquely endowed with five high-quality tertiary institutions, which in themselves contribute massively to the provincial economy, and have the potential to shape the economic path of the province. It would be stupid not to exploit such a unique comparative advantage."
Rasool said the alliance was imperative in the light of tough challenges like high unemployment.
"International agencies like the United Nations Development Programme and World Bank suggest that even if we achieved economic growth of 10% for 10 years, we would still have unemployment of more than 30% for the low and unskilled part of the labour force. In other words, unemployment will remain chronic in South Africa as a result of the educational deficit apartheid has left us with."
He also described the higher education sector as a powerhouse in the province.
"If you are a R5-billion sector, as Prof Martin Hall [Hall is chair of the CHEC board] tells me, you must take your place at the table of economic policymaking and engagement so that the state's growth strategies serve your long-term interests, which I hope includes becoming global hubs of knowledge and human capital production."
Vice-Chancellor and Principal Professor Njabulo S Ndebele said: "If universities are to play their full role, it's absolutely critical to have a mechanism for universities and province to work together to take this process forward."
did you know
that the higher education sector in the Western Cape provides for or produces:
13 052 courses
1 962 programmes
85 385 students (67 300 are undergraduates)
20 402 graduates in 2005
14 000 employees.
---
This work is licensed under a Creative Commons Attribution-NoDerivatives 4.0 International License.
Please view the republishing articles page for more information.
---