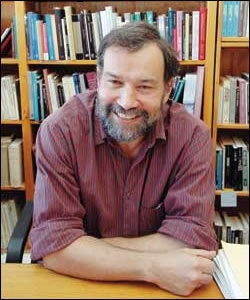 Prof David Schalkwyk. (UCT now has 23 NRF A-rated scholars, with the news just in that Prof George Ekama (civil engineering) has also received an A-rating.)
Love and service are common themes in the Shakespeare texts Professor David Schalkwyk has studied for 20 years. It's an equally strong theme in his research and teaching.
Schalkwyk has published widely on topics ranging from Shakespeare and literary philosophy to South African prison writing, and he teaches these areas from first-year to master's level.
Love and service are exactly the values that permeate his work. Schalkwyk talks readily of the joy that teaching and scholarship bring; the satisfaction of inculcating critical thinking among his students - and absorbing the intellectual flavours on campus, thanks to his position as deputy dean of the humanities faculty.
"There's an incredible human richness - a warm and critical support - in the humanities faculty. It's a richness we don't exploit enough on campus."
He adds: "I find that most of the joyful inspiration I get for taking my ideas further comes from my students. Research and teaching are absolutely inseparable."
On his densely packed bookshelf is a still-in-the-box action hero, a figurine of William Shakespeare. It's a tongue-in-cheek comment on cultural icons, but then Schalkwyk is certainly used to exploring the world through many lenses. In his studies of Shakespeare he's found that the South African social and economic milieu reflects some striking parallels with the Bard's own life and times.
His dissection of Shakespeare's sonnets and plays is even keener thanks to his twin interest in philosophy, his second major as an undergraduate at Stellenbosch University. Philosophy has given him a perspective many Shakespeare scholars don't have, and this has enabled him to make a mark on international Shakespeare scholarship.
Born in Springs, Schalkwyk matriculated form St Andrew's School Bloemfontein in 1971 and attended Stellenbosch University where he majored in English and philosophy. He left with an MA in 1980. He also has an honours degree in philosophy from UNISA and MA and DPhil degrees from the University of York in England. He taught at Stellenbosch and the Rand Afrikaans University before joining the English department at UCT in 1988, which he headed from 2000 to 2003.
"I'm an extreme sceptic," Schalkwyk says of his A-rating. "I applied because it seemed crazy not to enable UCT to tap into NRF resources via the rating system."
That aside, the A-rating recognises Schalkwyk's body of work on Shakespeare and philosophy ("I hate the word theory," he quips), especially the relationship through performance between Shakespeare's sonnets and his plays. His recent inaugural lecture focused on the relationship between agency and imprisonment in Shakespeare's work and similar themes in some South African prison writing.
He has published a translation of Karel Schoeman's novel, 'n Ander Land, and two academic monographs on Shakespeare and literary philosophy. He has recently completed a manuscript on the relationship between love and service in Shakespeare, which has interesting South African roots, because of the intersection between the personal and the political that marks the servant and master, with striking parallels in Shakespeare's society.
It's a theme he explored during a stint at Harvard in 2004 as a Harvard Mandela Fellow. He believes South African students have a potentially better understanding of Shakespeare because of a parallel between a developing Third World context and Shakespeare's own cultural and social conditions.
"But our approach to research in this country is wrong," he reflects. "There's too much emphasis on quantity, on 'outputs'. We take on board managerial, mechanistic jargon that distorts and corrupts what we should be doing, which is teaching our students critical literacy."
He continued: "We need to inculcate the joy of critical thinking, writing and reading. If our students haven't been bitten by the personal satisfaction of extending ideas by looking at texts closely, they'll never learn to produce anything - and what they do produce will be dead."
---
This work is licensed under a Creative Commons Attribution-NoDerivatives 4.0 International License.
Please view the republishing articles page for more information.
---