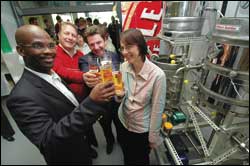 Drink to that: Clifford Raphiri (SAB), Denis da Silva (SAB), Diarmaid de Búrca and Prof Sue Harrison make a toast to the micro brewery.
Brewing requires some serious science. That was the official word at the inauguration of a new micro brewery, tucked into the corner of chemical engineering's experiential learning centre. And the thought of all that science certainly lightened the mood of the students in attendance.
They will get a first-hand taste of the brewing processes, as well as more practical technological and engineering insights - like pilot plant development and process design - and basic business principles like costing and product development.
The unit, a gift from brewing giant South African Breweries (SAB), Newlands, will teach students some fundamental chemical processes such as enzyme extraction and yeast propagation. That's apart from its more recreational attractions, of course. Beer is serious business.
"In this country 2.6-billion litres of beer are consumed every year, compared to 300-million litres of wine," said Clifford Raphiri, manufacturing and technical director for SAB. Raphiri, a UCT mechanical engineering graduate, was on hand to inaugurate the facility. A similar unit was donated to Stellenbosch University.
He said it was a shame beer didn't enjoy the same mystique and culture as wine.
Nonetheless, skilled brewers are in demand - and it's not just man's work. SAB has 65 brewers across the country, 23 of whom are women.
Raphiri said he hoped the micro brewery would enrich learning and create a beer culture.
The latter can't be said to be lacking in this neck of the woods. The department has a beer club every Friday and units compete to produce the tastiest brew.
Speaking at the launch, Professor Sue Harrison said the department had a long-running collaboration with SAB, the brewery acting as a real-world site for students, providing industrial exposure.
"We also have a lot of fun brewing," Harrison confirmed, to silent echoes of "cheers". "There's stiff competition between the units."
Final-year students Bradwin Roper and Alistair Hughes will oversee the micro brewery and have already put it through its paces, correcting some snags. During the first brew (the micro brewery produces 50 litres at a time) they encountered problems with the filter cake. Solids were being transferred to the kettle, producing a hazy beer.
"But we're finishing our redesign and everything will run efficiently now," Roper said.
They're also designing practicals for first-, second- and third-year students. This work forms part of their final-year theses.
"It's a good mix of art and science," Roper said, tapping a measure for tasting and raising it to the light. "The brew is quite hoppy."
He's right. It's delicious.
"We know how to create certain flavours and can judge a good beer," Hughes added.
Bottoms up to that.
---
This work is licensed under a Creative Commons Attribution-NoDerivatives 4.0 International License.
Please view the republishing articles page for more information.
---