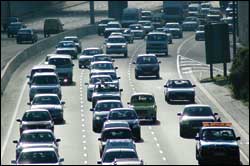 Coming clean: South African will soon have to show that it can cut back on its greenhouse gases emission.
South Africa, it must be said, does not spew out nearly as much greenhouse gases into the atmosphere as some Western nations, like, say, the gas-guzzling United States or even modest-emitters Germany and the United Kingdom.
But in Africa, the country is the arch-offender. According to figures from the International Energy Agency (IEA), coal-dependent South Africa released some 318-million tons of carbon dioxide, the major greenhouse gas, in 2003. Namibia measured a piffling 2.5-million tons, and oil-rich Nigeria a 'mere' 49-million tons. (The US registered 5 729-million tons that year, by the way.)
Little wonder, then, that South Africa may well be among those developing countries next in line to clean up their act. The next round of negotiations under the UN Framework Convention on Climate Change could require the country to take on more responsibility. How to do this, though?
Recently, Cabinet approved and initiated the development of a greenhouse gas mitigation strategy for the country, and will take its cue from various "scenario-building and options-generating processes". Meaning that researchers and scientists will feed as much information into a model that will predict what the likely outcomes will be from sets of possible actions.
The information from researchers will feed into a stakeholder process. Key stakeholders, including government, industry and civil society, will develop a range of scenarios for mitigation over the next few decades. There are positive signs, such as ESKOM promising to diversify its energy sources and so cut back on its use of coal, if only marginally.
The Energy Research Centre (ERC) at UCT has been commissioned by the national Department of Environmental Affairs and Tourism to project-manage both the study and process.
"The project comes out of the realisation that going into the next round of negotiations South Africa needs to do its homework," says the ERC's Harald Winkler.
Winkler, who will co-ordinate the study, has already assembled a team of experts drawn from both UCT and elsewhere. Alison Hughes of the ERC's Energy Modelling Group will come up with the scenarios. Ecologist Dr Bob Scholes at the Council for Scientific and Industrial Research (CSIR) will head the investigation on non-energy emissions, generated by everything from cement production to livestock farming. Kalie Pauw of the Development Policy Research Unit (DPRU), also at UCT, will look into the macroeconomic impacts of further emissions and of reductions. And Dr Guy Midgley of the South African National Biodiversity Institute will provide the latest projections of climate change impacts.
South Africa has a long haul ahead. By the turn of the century, the world should have reduced its emissions by 60% to 80% from its current levels, according to the Intergovernmental Panel on Climate Change. How much South Africa can reduce, at what cost and what the opportunities for investment in cleaner development might be, will hopefully be answered at the end of the scenario process, says Winkler.
"It needs to happen over many decades, but we need to start now. If we don't, it's going to be impossible to do later."
At least not without a price.
---
This work is licensed under a Creative Commons Attribution-NoDerivatives 4.0 International License.
Please view the republishing articles page for more information.
---