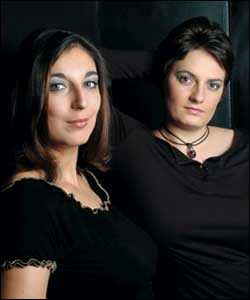 In harmony: South African College of Music graduates Cara Hesse (front) and Laura Pauna, a multi award-winning piano duo.
UCT alumni and piano duo Cara Hesse and Laura Pauna have won the 2006 IBLA Grand Prize Competition in Ragusa, a Baroque town on the Sicilian coast.
The prize includes tours throughout Europe, Japan and the United States, capped with a performance in Carnegie Hall. The two graduated from the South African College of Music in 2005.
"This international competition is unique in the sense that competitors are judged according to a certain standard of excellence," Hesse explained. "The minimum mark out of 10 needed to qualify as a top winner is 9.5."
The competition is open to all instrumentalists, composers and singers, and there is no age restriction.
Hesse and Pauna have been playing together for six years. They were the first piano duo team from South Africa to obtain a Bachelor of Music degree and Performance Licentiate from UCT and UNISA, respectively. With awards-studded CVs, the duo swept the boards at UCT as students, winning the Leonard Hall Memorial Prize (2003), the A Persuer Bursary (2003) and first prize at the Eric Chisholm Centenary Competition (2004).
"We had a wonderful experience in Ragusa," Hesse said. "There were several casual open-air performances as part of the competition programme, quite nerve-wracking as people were going about their usual business - including the World Cup soccer enthusiasts - church bells were ringing and children were running around screaming."
The pair will start their world tour in April next year, performing at such prestigious venues as the Lincoln Centre for Arts and Carnegie Hall (both in New York), the Tokyo Opera House, and the Great Hall of the Moscow Conservatory. They will also embark on concert tours in Canada and Europe.
Hesse and Pauna begin postgraduate studies in October, specialising in duo piano, at the world-renowned Conservatory of Music in Hanover.
The pair's CVs bristle with awards. They participated in the Grieg master classes in Hanover with Einar Steen-Nøkleberg and Bernd Goetzke in April 2006. During August 2005, they were awarded the Sarah Lahat prize for piano duo at the Tel-Hai International Piano Master Classes in Israel, where they worked with Nicolai Petrov.
They were finalists in the Murray-Dranoff International Two-Piano Competition in Miami (2003) and winners of the National ATKV-Musiq Chamber Music Competition for four consecutive years (2001-2004).
In 2003 they were also semi-finalists at the Torneo Internazionale di Musica in Miramas, France.
And, wait, there's more: In October 2005 they were the first duo to compete in the UNISA overseas scholarship competition, where they were finalists.
---
This work is licensed under a Creative Commons Attribution-NoDerivatives 4.0 International License.
Please view the republishing articles page for more information.
---