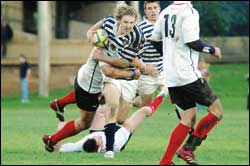 Craig Klue heads for the Villagers line in UCT's 29-18 win.
Hockey (men)
The Western Province Cricket Club A side is not the same title-winning outfit they were in 2005. A 0-4 defeat against UCT A on Saturday, June 3, just drove the point home. But it was just the result UCT needed after a long break from the WP Grand Challenge season. (An inter-provincial tournament took priority and much of the season was put on hold.) Now in third place, they've got Stellenbosch in their sights but are still lagging way behind the freewheeling Pinelands, who have a seven-point lead on everyone else. The UCT plan is to keep beating the other sides and peg Pinelands back as much as possible. "We've got to make sure before we play Pinelands that we don't make any mistakes," says coach, Pierre le Roux. "We've got to keep our record clean." Nobody, after all, wants to play Manchester United to Pinelands' Chelsea.
Rugby
A 29-18 win over Villagers has put FNB UCT's in second place on the WP Super League A1 log. Where they finally end up is far from decided. SK Walmers and Mr Price Tygerberg are still very much in the running, and league-leaders Stellenbosch have not been their usual indomitable self. But there's plenty to take heart from. UCT has been far more consistent than it's been in years. Spencer King, director of rugby, puts that down to the squad system the team has adopted, resting players whenever the schedule gets a bit tight. "We've had good depth," says King. It's obviously paying off. The side has scored all of 279 points so far - that's almost 40 points a match - and conceded just 129. That may count for a lot when scores are tallied at the end of the season.
Squash (women)
The women's side is going all out for a third successive WP title win. It's not going to be a cakewalk, though. The side - Siyoli Lusaseni, Gina Robinson, Annie Aling and Anndrea Naidoo - are in second place, chasing Camps Bay, the only team they've lost to the entire season. (By the narrowest of margins, it must be said.) A win over Fox last Monday keeps the side very much in the hunt.
---
This work is licensed under a Creative Commons Attribution-NoDerivatives 4.0 International License.
Please view the republishing articles page for more information.
---