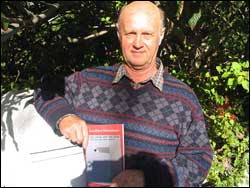 Emer Prof Geoffrey Haresnape.
Emeritus Professor Geoffrey Haresnape, an honorary research associate in the Department of English Language and Literature and the Centre for Creative Writing, has been appointed an Extraordinary Professor in the Department of English at the University of Western Cape.
To mark the event, he delivered an inaugural lecture there recently, titled Writing Poetry in South Africa Before, During and After Apartheid.
Though apartheid had been part of his world for a long time, Haresnape attributed his early "jingles" to verses he was exposed to in illustrated children's books.
Sketching the Wynberg neighbourhood and streets of his childhood, a jostling mix of colour, culture and language, Haresnape recalled "how grim the feeling was among my household in May 1948 when the election results had the National Party edging into power".
"The verses which I wrote before apartheid did not amount to much - in fact they did not amount to anything. But those early years were deeply formative in that they established for me as a would-be writer measures of openness and interactiveness, which the polarising tendencies of the apartheid regime and its legislation could not eradicate".
Haresnape paid tribute to his mentors, writers of verse like Guy Howarth who ran an "imaginative writing class in which aspiring writers could read their work and seek criticism".
"Nowadays we would call it a workshop. In retrospect what a seminal group that was. Among the regulars were John Coetzee, now JM Coetzee, Jonty Driver, now CJ Driver, and Stephen Gray. Breyten Breytenbach and Adam Small were not regulars since they wrote principally in Afrikaans, but they existed on the periphery."
With an MA on Pauline Smith, Haresnape found a home in the English department at Wits and lived in Johannesburg for most of the 1960s.
"The immediate post-Sharpeville years were the time of granite apartheid and we were pretty much sealed up in our white world. Were it not for the valuable friendship of Lionel Abrahams and his circle, I think I would have found cultural life to be seriously lacking."
Many of his later poems were responses to events: a mass rally of Afrikanerdom outside Pretoria was the impetus for Voortrekker Monument. As the country shed its apartheid skin, so other poems and volumes grew from impetus and hope; Mulberries In Autumn, for example, appearing in 1996 and the first of his post-apartheid books.
Haresnape also read five pieces from his new publication The Living and the Dead: Selected and new Poems 1976-2005, which he describes as a "sort of combo volume, half retrospective and half thrusting forward with hitherto uncollected work".
Growing-up Daughter
I FATHER:
Snug heart,
Do not part
From the fire's glow and lamplight
Bright on your cheek.
Don't choose the out-of-doors for pleasure,
Nor a dare -
Not even as a place to say a prayer.
You have peace and leisure.
Outside, out there,
Where the stars burn in the sky like furnaces
(far, faraway furnaces roaring and raving
melting and moiling, bursting and breaking)
out in the dark there are bats and bush;
baboons bark and leopards rush.
That is no place to be serene.
Keep your good nature, dear.
Don't put it to the test of fear.
Stay by the hearth.
II THE DAUGHTER'S REPLY:
The leopard on his pads of silence
stalks me;
with a tremor I sense his plush.
Father, I must go
Whirling in the darkness.
The stars will be a hive of golden bees about my hair.
And what do I care, father,
what do I care,
if an old baboon squatting on his calloused rump
yells lecherously at me from a hidden lair?
Geoffrey Haresnape
---
This work is licensed under a Creative Commons Attribution-NoDerivatives 4.0 International License.
Please view the republishing articles page for more information.
---