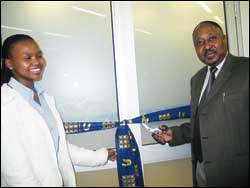 SRC president Andiswa Magadla watches as DVC Prof Thandabantu Nhlapo cuts the ribbon, officially initiating the day house into the UCT system.
Non-resident students now have a base to call their own with the launch of IKhaya Student Day House on May 19.
Located in Leslie Social Sciences, the newly refurbished common room is equipped with comfortable furnishings and a 42" plasma screen television with DSTV.
But the day house is more than just a place to chill in-between lectures and catch up on the cricket or daily soapies.
The brainchild of the Student Representative Council (SRC), the day house was conceived two years ago with the aim to expose non-resident students to the full experience of university life enjoyed by their counterparts in res. It was felt that an official dayhouse would provide the opportunity for social and cultural interaction, as well as developing leadership and life skills using the university's resources such as mentorship, counselling and other extra-curricular activities.
Furthermore, according to the newly appointed SRC president, Andiswa Magadla, they wanted the day students, who make up the majority of the UCT student body, to participate fully in the student governance system.
"You can't have 17 000 students on campus who are not represented," she said. "Only good things can come from having this group adding their voice to student governance."
Deputy Vice-Chancellor, Professor Thandabantu Nhlapo, said the occasion was the way things should happen in an institution like UCT.
"We are witnessing the ripening of an idea that was conceived two years ago, and a situation where the present SRC is bringing to life what started with the previous SRC," he said. "It's a good model which should be emulated."
The university contributed R200 000 towards the refurbishment of the common room.
Nhlapo also said the day house project is a compelling example of a joint effort between the university management and student leadership.
This includes current and past members of the SRC and the previous day house co-ordinators who helped build the foundations for the project, as well as the current day house co-ordinator, Rowan Dunne.
Deputy Vice-Chancellor, Prof Martin Hall, Executive Director: Student Affairs, Moonira Khan, as well as the Properties and Services Department, also played a significant role in supporting the initiative.
---
This work is licensed under a Creative Commons Attribution-NoDerivatives 4.0 International License.
Please view the republishing articles page for more information.
---