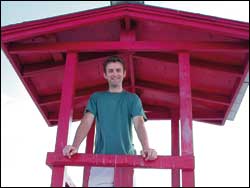 Widely travelled: Prof Graeme Cumming, new Pasvolsky Chair of Conservation Biology at the Percy Fitzpatrick Institute of African Ornithology has visited over 30 countries.
Professor Graeme Cumming is contemplating the boxes of books, waiting for the completion of bookracks in his office at the Percy Fitzpatrick Institute of African Ornithology. Four months into his new job as the Pasvolsky Chair in Conservation Biology, there is one book singled out on his desk: the Millennium Ecosystem Assessment.
There are four volumes in the international assessment, compiled of 1 300 peer-reviewed authors on how ecosystem change will affect humans and suggests solutions and responses to those changes. Launched by United Nations Secretary-General Kofi Annan in 2001, the programme is aimed at decision makers at the highest levels.
Cumming is one of the authors, divided into four expert working groups, each producing a technical report. His work appears in the volume on multi-scale assessments, combining his main research interests: landscape ecology, conservation biology, community ecology, resilience and complex systems theory.
Widely travelled as a result of his conservation interests, Cumming grew up in Zimbabwe on a remote field station (his dad was an ecologist and these days is also an affiliate of the Fitztitute). A graduate of Rhodes (zoology and entomology) he read for his PhD (The Evolutionary Ecology of African Ticks) at Oxford on a Rhodes Scholarship.
From Oxford he moved to the University of Wisconsin Madison on a DH Smith Postdoctoral Fellowship from The Nature Conservancy. After two years as a postdoc he was appointed assistant professor in the Department of Wildlife Ecology and Conservation at the University of Florida, which he left to join UCT.
When he heard about the vacant chair, Cumming was travelling, on assignment from Florida. "I was trying to get back to working in Southern Africa by setting up collaborations through the University of Florida." On a visit to the Fitztitute he heard about the position, mulled over it and put in an application of the eve of the closing date. It was a difficult decision, as he was about to be tenured as an associate professor in the American system.
Realising that it would be harder and harder to get back to Africa if he didn't return soon, Cumming said he "gradually started to get keener and keener on the position".
"In South Africa one can contribute so much more; there is such a need for skills and abilities. In the US there are more people who can do the same thing. And the opportunities here are so much more interesting. There's more potential to push for positive change."
He said South Africa also tended to value their natural resources highly. And there were "new approaches and interesting ideas" coming through from South Africa and other Southern Hemisphere countries like Australia.
The Pasvolsky Chair is the result of a R5-million bequest from the late Pola Pasvolsky, who was passionate about the arts and the natural environment.
Conservation biology is one of the disciplines UCT is advancing.
Off duty Cumming likes reading; he has eclectic tastes that stretch from trashy thrillers to the classics. He's also an ardent squash player and likes running and hiking - outdoors stuff. And then there is the new passion in his life: eight-month old Nils, born in Germany and already at home in Cape Town.
Like father, like son.
---
This work is licensed under a Creative Commons Attribution-NoDerivatives 4.0 International License.
Please view the republishing articles page for more information.
---