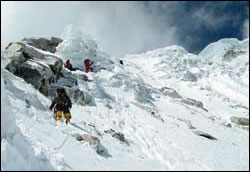 Climbing Pumori (7 216m), in the Himalayas, directly across from Everest.
When Amanda Fitschen packed her crampons and ice axe for the Pumori massif (7 216m) in Nepal in March she became the first South African woman to climb the mountain. But she never imagined her quest to summit the peak would turn into a life and death tussle to bring three severely injured men - a Swedish climber and two sherpas - down from high altitude, strapped to the aluminium ladders used to bridge crevasses.
Behind her computer in the School of Economics where she lectures, Fitschen is calling up pictures - starkly beautiful images of impossibly high mountains in the Himalayan spine, trailing veils of snow.
There are monuments to the dead all over the Khumbu Valley below, climbers who have gone up and not returned. Some bodies, like that of Andrew Irvine, who possibly summited Everest with George Mallory in 1924, have never been found.
The "classic" 7 000m peak of Nepal, Pumori (Pumo meaning girl and Ri meaning mountain in Tibetan) lies in the shadow of Everest, in view of Lhotse and Nupse. In fact, it was from this peak that Eric Shipton helped to choose the first ascent route on Everest, which Tenzing Norgay sherpa and Sir Edmund Hillary summited in 1953.
At these altitudes the air is so rarefied that lungs burn and movements become laboured. Simple things take time and the weather is seldom kind.
Pumori is a classic triangular summit of rocky flanks, dominating the west side of the Khumbu Valley, directly across from Everest. But they say it's more difficult to climb: steeper and with more avalanches and crevasses. Climbers must use fixed ropes to make the ascent.
On the final morning of the expedition's summit, the group had reached 6 900m before disaster struck. Whilst Tenji sherpa and Lapka sherpa had gone up ahead to fix the ropes, a Swedish climber in a hurry at the front of the pack (Fitschen has harsh words about his lack of co-operation), fell from an 8m wall pulling on the ropes and taking the sherpas down. Coming from above, the sherpas were catapulted, hitting the front of the ice wall and sliding 400m on ice, "skidding like a Formula One car on an oil slick", Fitschen recalls.
Fortunately, they were roped up. The Swede emerged fairly unscathed with a sprained ankle, though this was only ascertained in Kathmandu after he'd been carried off the mountain. But the sherpas' injuries were more serious. Lakpa sherpa broke a leg below the knee, Tenji sherpa dislocated a hip and shoulder.
At 250 vertical metres from the summit, it was a bitter blow. At 09h30 the expedition had to be called off and from then it became a rescue mission.
"On Everest they leave you," Fitschen said. Struggling with high altitude in extreme conditions, they took 39 hours to carry the three men down.
"We put them in sleeping bags on mattresses to stop them from freezing and dragged them across the ice down to Camp 2. There were 16 hours between the accident site and Camp 1 below, where there were extra ladders they could use as stretchers.
"On the second day we moved them one foot at a time for 18 hours."
On the third day, so sore from the previous day's travel on the ladder, one of the injured sherpas refused to be put back on the ladder and had to be piggy backed. "How no-one died I don't know," Fitschen said.
Fortunately Fitschen (MCom, KwaZulu-Natal, 1996) was in top condition, a veteran of the Comrades and Two Oceans marathons.
She wasn't always a climber.
"The year I turned 40 I wanted to do something for my birthday." Some women buy jewellery; Fitschen scaled a mountain in the Peruvian Andes with the Mountain Club of South Africa.
"In fact I was on the mountain on my birthday." The bug bit. "It's hard to explain, even to myself."
The first time she wore crampons was on the Ishinca Glacier on Cordillera Blanca but since then has done a week-long training course in snow climbing to supplement her experience of rock climbing at high altitude.
"When I'm on the mountain, I have only myself to worry about. I know exactly how many mouthfuls of water I can take, my exact fluid intake, how fast I am walking or climbing, how hot or cold I am, what to wear to minimise sweating - all these things affect success."
Fitschen was the only woman on the Pumori expedition of 14, a veritable United Nations of climbers: America, Canada, Australia, New Zealand, Holland, Sweden and Germany, with five sherpas.
Fortunately, when the accident happened, the weather on Pumori was clear.
"If we'd had bad weather, it would have cost people's lives," Fitschen said. Another bit of luck was having two firemen on the expedition, one from New Zealand and another from Canada, professionals Fitschen rates very highly. Splints, duct tape and morphine had to make do while the injured were being brought down.
Once they reached the glacial moraine below, they had to be lifted over one block of rock at a time.
At the bottom, they created a makeshift helipad, using orange juice powder to mark the "H" and the South African flag as the windsock.
Both the injured sherpas have summited Everest a number of times so were well qualified for the job on Pumori. But Fitschen commented that Lapka sherpa's fall may end up robbing him of a livelihood. "Sherpas work hard on the mountain and don't always receive the recognition they deserve," Fitschen added.
There were other tense moments: Fitschen got caught alone in a snow storm, caught unprepared away from camp without crampons or ice axe and no fixed line to assist her.
She battled with an ice cliff for 30 minutes before making it back to the tent. At times like this she would think: "This is craziness, absolute stupidity."
But like many painful things, the memories soon fade.
"And every time I go up there, I learn new tricks of the trade, which I have to try out on the next mountain surely?"
---
This work is licensed under a Creative Commons Attribution-NoDerivatives 4.0 International License.
Please view the republishing articles page for more information.
---