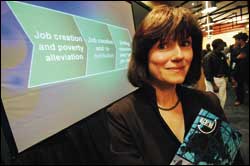 No business? South Africa may have to switch some of its policy focus, says Marlese von Broembsen, author of the GSB's Global Entrepreneurship Monitor.
If government is serious about creating jobs in South Africa, it must make some tough policy decisions and focus on those entrepreneurs identified as job creators.
This according to the latest Global Entrepreneurship Monitor (GEM) study - which measures entrepreneurial activity - conducted in South Africa by the Centre for Innovation and Entrepreneurship at UCT's Graduate School of Business (GSB).
The numbers speak for themselves. The latest data shows that in the study's entrepreneurship rankings South Africa has dropped from 20th position (out of 34 countries) in 2004 to 25th position (out of 35 countries) in 2005. And the country's Total Early-stage Activity (TEA) was only 5.1% in 2005, down from 5.4% in 2004.
Significantly, South Africa also has the lowest entrepreneurial activity rate of all the developing countries participating in GEM.
According to Marlese von Broembsen, principal author of the South African GEM report, the key findings that should concern South Africa are those that show that micro and survivalist enterprises, a major focus of government's small, medium and micro enterprise (SMME) support, are unlikely to create jobs in the numbers needed to combat South Africa's economic inequalities.
The evidence from the GEM South Africa Report shows that, in truth, less than 3% of necessity businesses - which constitute all "survivalist" businesses and most micro-enterprises in the informal economy - are likely to create a significant number of jobs. In fact, businesses created to take advantage of an opportunity, rather than out of necessity, are over four times as likely as micro-enterprises to employ six or more people.
In addition, the low wage levels and generally poor conditions of employment in these necessity enterprises means they are unlikely to contribute significantly to a poverty alleviation objective either.
The research also demonstrates the extent to which South Africa's history of unequal access to education, finance and opportunity impacts on the job creation capacity of entrepreneurs. GEM data confirms that Indians and whites are more likely than coloured or black people to start a business.
Their businesses are also more likely to survive the start-up period, and to employ staff in significant numbers.
The level of education of entrepreneurs impacts significantly on their capacity to create employment. The potential of tertiary-educated adults to create employment is 2.5 times greater than those who only completed secondary education, and a massive 11 times greater than those who have not completed secondary education.
An interesting finding is that Indian entrepreneurs with secondary education are the most likely category of entrepreneurs to create employment for others.
The research also shows that men create more employment for others than women do - GEM estimates suggest that the job creation potential of men is 2.3 times that of women.
"The policy implications of these findings are important," said Von Broembsen. "While other studies have underlined the fact that significant job creation may only be possible at the expense of redistribution, GEM provides empirical support for these critical policy debates."
The report argues that government needs to create a hierarchy of policy objectives, with job creation as an immediate priority.
This may mean shifting focus in the short-term away from SMME programmes that support a redistribution of wealth or poverty alleviation objective towards programmes for entrepreneurs that create jobs, said Von Broembsen.
"Given our high levels of unemployment and the indisputable relationship between unemployment and poverty, we would argue that job creation should supersede poverty alleviation, not as a national objective, but as an SMME objective. Job creation in itself is the most effective, sustainable strategy within the context of SMME policy that could alleviate poverty and reduce inequality."
This policy position would be in line with the one taken in the White Paper on small-business development and promotion, added Von Broembsen.
The paper envisaged that poverty alleviation should be contextualised within the Reconstruction and Development Programme (RDP) programme and that survivalist business owners be skilled to find employment, rather than given business support.
"In the light of the GEM findings, this policy position would make the most sense," said Von Broembsen.
The report acknowledges, however, that decisions like those would be tricky in South Africa, given its past. But, it adds, there are a number of government programmes that contribute to the development and growth of high-potential firms in South Africa.
In the long-term, though, education remains the key to entrepreneurship and job creation in the country.
GEM is the largest and most rigorous study of entrepreneurship in the world and this is South Africa's fifth year as part of the study. The South African 2005 GEM study was sponsored by Liberty Life, HBD Venture Capital, South African Breweries Limited, Standard Bank, Khula Enterprise Finance Limited and the National Research Foundation.
---
This work is licensed under a Creative Commons Attribution-NoDerivatives 4.0 International License.
Please view the republishing articles page for more information.
---