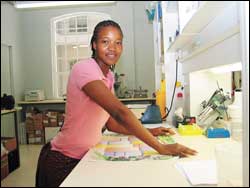 Bush to lab: Researcher Thabang Mokgethi in the Institute of Infectious Disease and Molecular Medicine (IIDMM) laboratory where she has been investigating the medicinal efficacy of four new indigenous plants.
Thabang Mokgethi remembers well the thin-leafed bush that grew wild outside their home in Delareyville in the North West Province. Her father used it to treat bouts of 'flu.
The master's student didn't know then it was Artemisia annua, an indigenous plant that gives us artemisinin, renowned for its infectious disease-fighting properties, particularly for malaria.
The Chinese have used an infusion of qinghaosu (the traditional name for artemisinin) for two thousand years, especially to reduce fevers and other symptoms associated with malaria.
Mokgethi's master's thesis investigates indigenous plants as possible sources of compounds for a new arsenal of anti-tuberculosis drugs. Mycobacterium tuberculosis is one of the planet's most effective human pathogens, affecting one third of the world's population. The stats are staggering; TB still kills two to three million people every year and its re-emergence as a "bad 'un" is largely due to the rise of multi-drug resistant strains of the pathogen and escalating HIV infections.
"I always wanted to make a visible difference," she says of her work. Through a project in traditional medicine, she melds her interest in science, health and the preservation of indigenous knowledge.
"The belief in traditional remedies and healers remains firm among African people, despite westernisation," she says. "It would be essential to have new anti-TB agents that can be readily and simply produced from a local source. It is also important that the efficacy and safety of the crude herbal medicines be evaluated to maximise their potential."
Her recent Potter Seminar on the role of traditional medicine in public health and infectious disease control gathered some of the country's leaders in the field; from traditional practice to intellectual property rights. (The seminar is part of her commitments towards her funder, the David and Elaine Potter Charitable Trust.)
It's a delicate balance, Mokgethi says, between new knowledge, new drugs and the people who hold and share the indigenous knowledge.
Though the prospect is to develop cheap, safe drugs that will combat some of Africa's hardiest infectious diseases, Mokgethi wonders: "Will the people who gave us the knowledge benefit from it?"
"Scientists and researchers have a responsibility to disseminate their knowledge back to the people who first incubated it. This will be one of the ways to duly acknowledge our cultural heritage as the health fraternity."
Mokgethi is part of a UCT TB Research Unit and UCT/MRC collaboration investigating four plants that haven't yet been investigated for treatment of infectious diseases like TB. Two are on the database and two have been sourced from literature.
The aim of her master's project has been to develop in vitro and in vivo bioassays to evaluate the anti-TB activity of plant extracts of medicinal plants used in traditional medicine, the common blue lily (Agapanthus praecox), Syzigium cordatum, Zanthoxylum capense and Olea europaea subsp. Africana (wild olive); and to study the effects of plant extracts on the immunological response to TB infection.
"They're all common plants; some even grow in your garden. That's what's exciting about it all," she enthuses. "You never know what you're stepping on."
As the sun streams in at her lab, Mokgethi is mulling over the April weather she's likely to encounter in Scotland where she has a three-year PhD programme to get stuck into at Strathclyde University.
She'll be back with skills and knowledge to share.
---
This work is licensed under a Creative Commons Attribution-NoDerivatives 4.0 International License.
Please view the republishing articles page for more information.
---