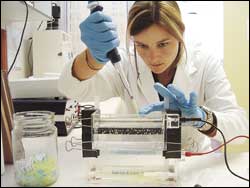 Putting on the genes: Liesl de Milander analysing blood samples in a bid to unravel the mysteries of athletic performance.
How important are your genes to your running performance?
This is a question UCT PhD student Liesl de Milander has chosen to focus on in a project that promises to answer some interesting questions about the genetic make-up of top athletes, particularly those who take on ultramarathons like the Comrades.
She has a ready-made opportunity, virtually on the doorstep of the UCT/MRC Research Unit for Exercise Science and Sports Medicine where she is doing her PhD in exercise physiology. This is the 56km Two oceans marathon, second only to the Comrades in popularity.
This phenomenon is one that is unique to South Africa. Elsewhere in the world, ultramarathons (marathons longer than the standard 42km) are the preserve of a select few, but South Africans seem to have a penchant for endurance running, giving researchers a large pool of people to draw on.
This is important for genetic research, which is why De Milande, supervised by Dr Malcolm Collins and Dr Andrew Bosch, will be looking into the genetic make-up of high-performing ultramarathon athletes.
a prior research study by Collins found differences in the genetic make-up of individuals who performed well in the South African Ironman - an endurance event that involves swimming, cycling and running a standard marathon.
De Milander's research will take this one step further by focusing on the ultramarathon.
Using blood samples from South African men, she will search for genetic components associated with athletic performance.
Due to strict protocols for genetic research, she is not able to approach athletes directly but is looking for volunteers who fit the criteria, namely all men who are running the 2006 Two oceans Ultra (56 km) marathon or, alternatively, men who have never participated in a road race. The latter will make up the control group. all the men should be older than 23.
Participants will be asked to donate a teaspoon of blood for DNA analysis, and to complete a form with personal particulars, sporting details and racing history. The DNA will be analysed anonymously and samples will be destroyed once the study has been completed, or even earlier if the participant requests it.
De Milander will be available to answer any questions about the study that participants might have.
To participate, please contact De Milander at lmiland@sports.uct.ac.za or call her on 650 4569 or 083 883 6202.
---
This work is licensed under a Creative Commons Attribution-NoDerivatives 4.0 International License.
Please view the republishing articles page for more information.
---