With workmen in the background reminding guests of the newness of the hosting Wolfsohn Pavilion, the mood at the IIDMM headquarters was festive last Wednesday as Archbishop Emeritus Desmond Tutu and his wife Leah arrived to open an HIV centre there named in Tutu's honour.
Joking to the assembled press that he was a "very good stage prop", the patron of the Desmond Tutu HIV Centre was in good company. Among the guests were many of the senior researchers attached to the IIDMM (Institute for Infectious Disease and Molecular Medicine), as well as UCT's former vice-chancellor, Dr Mamphela Ramphele.
The newly named unit (it was launched in January) replaces the HIV Research Unit, established at Somerset Hospital in the early 1990s, the first dedicated HIV clinic in the city. It is headed by two of the foremost doctors in the field, Professor Robin Wood and Dr Linda-Gail Bekker.
Wood is a specialist physician with an interest in infectious diseases and also a professor in the Department of Medicine. He serves on numerous provincial, national and HIV policy-related bodies. Bekker is a physician and immunologist and their research interests include the interaction between HIV and TB and the community impact of antiretrovirals.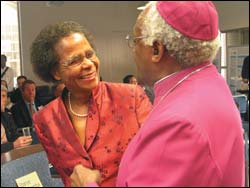 Here's to you: Former UCT vice-chancellor, Dr Mamphela Ramphele, in conversation with Tutu.
Under Wood and Bekker's directorship, the centre's work has expanded from a focus on individual clinical drug trials to operational issues around community treatment of adults: preventative interventions, TB and HIV, opportunistic infections, treatment adherence, pharmacoeconomics and more recently, vaccine research.
The centre's work benefits from close association with affiliated research laboratories at the medical school. It employs more than 100 staffers, including community-trained field workers who run community projects on HIV/AIDS awareness. Most of this community work is done in Masiphumelele in the Noordhoek valley and Nyanga, both poor communities with very high HIV and TB rates.
Speaking to local press, Ramphele, a director of the World Bank, said she believed the centre provided "an opportunity to showcase what medical science, in combination with social science, can do to help overcome the problem [of HIV/AIDS]".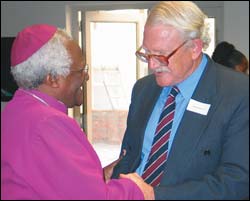 Greetings: Interim director of the IIDMM, Prof Wieland Gevers (right), exchanges greetings with Tutu.
In 2002 the centre established the first fully-integrated treatment pilot project in Nyanga, in partnership with the Western Cape Provincial Aids directorate. It is envisaged that 1000 patients will have been treated there by 2005.
Another treatment-linked project will investigate the impact of anti-retrovirals on the community as well as TB rates and the treatment of infants with HIV. They will also look at optimal times for vaccinating these children.
The centre runs preventative campaigns through school life-skills programmes, based on Ntsomi, on Xhosa storytelling, and forum theatre. This project is well underway in Masiphiumelele schools and was recently launched in Philippi High School.
As the centre is especially interested in adolescent risk of HIV infection, they plan to conduct a study in Masiphumelele to assess this group's HIV prevalence and sexual risk.
The centre is also preparing communities for HIV vaccine trials. Part of the campaign is to ascertain how well each community understands the disease. They will also monitor the rate of uptake on voluntary testing and counselling.
---
This work is licensed under a Creative Commons Attribution-NoDerivatives 4.0 International License.
Please view the republishing articles page for more information.
---