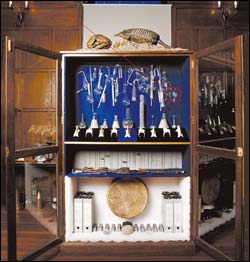 Exhibitions at Michaelis
Robotic tournament
UCT's Faculty of Engineering and the Built Environment joined forces with the MTN ScienCentre in Canal Walk and non-profit organisations ORT-Tech and ARTECH last month to present the first ever FIRST LEGO League (FLL) tournament in Cape Town. As an international programme (FIRST is a United States non-profit organisation) it aims to increase interest in and understanding of science and technology and exists in many countries around the world. Divided into teams, Cape Town learners were assisted by staff and students from the faculty as they constructed a robot which had to be fully programmed to execute mini-challenges. The day culminated in the Mission Mars Challenge. The event was organised by UCT master's student Will Scarborough, who used to run the league in the US. Research has shown that tournaments such as these provide hands on learning and improve a range of skills including confidence, problem solving and project management.
World AIDS Day talk on disability
On December 1, Musa E Zulu, author of the book The Language of Me, will give a talk titled HIV/AIDS and disability; this ability in the Barnard Fuller building from 12h45 to 14h00.
The Language of Me is a book that does full justice to its author's diversity of talents. Disabled in a car crash at the age of 23 at the height of a promising career, Musa found himself faced with one of the hardest challenges that life can bring.
This is the story of his battle not to overcome, but to fully embrace his disability, to look for the meaning in the tragedy and use its changes positively in service of a wider cause.
The story reflects his 'battle cry' to regain what was naturally his own, but which was taken away from him as an African and a disabled person - his dignity, his belonging, his beauty , his sense of unity and pride.
Second EQUIS accreditation for GSB
UCT's Graduate School of Business (GSB) has been formally re-accredited by the prestigious European Foundation for Management Development (EFMD).
This means that the GSB will continue to carry a European Quality Label from Equis, the EFMD's accreditation body, which gives students and employers the assurance that a qualification from the school measures up to the best in the world.
EFMD is Europe's largest network association in the field of management development and Equis is the leading international system of quality assessment, improvement, and accreditation of higher education institutions in management and business administration.
The GSB is one of only two business schools in South Africa to receive accreditation. GSB director Professor Frank Horwitz said that re-accreditation from such an influential body confirms that the school's programmes continue to meet the highest international standards.
The report also made special mention of the AIM programme, designed particularly for participants without extensive formal education from diverse South African communities, which has produced excellent graduates, and if expanded, can create even more impact for the school and for the country.
Students take wings for vac training
Several students from chemical engineering will wing their way to sought-after research centres for vacation training next month, an invaluable opportunity to spread their research wings - and to see a little of the big, wide world.
Martina Welz and Nhlamulo Baloyi are headed for the colder climes of the United Kingdom while Theresa Janse van Rensburg and Nadia Barnes will visit the AF Parker Cooperative Centre in Perth, Australia. Another candidate headed Down Under is third-year student Kudzai Changunda, winner of the Juluis Krutschnitt Mineral Research Centre Travel Scholarship.
A Zimbabwean, Changunda says he is eagerly awaiting his first trip beyond the African continent - and relieved he's destined for warm weather. "I'm especially keen to see how the Australians go about their research."
Welz, who presented impressive academic results throughout her degree, is headed for Reading to work at the John Matthews Research Centre for platinum catalysis. It will be her first trip abroad. "The experience of a European working culture will be an interesting one. I'm a Sasol bursar and worked for them last year and have as yet only experienced the South African working environment."
Black caucus meeting
The last Black Caucus session for the year has been scheduled for November 30 in the Senate Room at 13h00.
Exhibitions at Michaelis
The annual graduate exhibition showcases the art production of the graduating students of the Michaelis School of Fine Art. The media of the works produced range from painting, sculpture, printmaking, photography and new media. This year's exhibition will be open for public viewing from December 2 to December 22 from 10h00 to 16h00. Visit www.michaelis.uct.ac.za to see a preview of students work.
The graduate exhibition will run concurrently with the exhibition Curiosity CLXXV, in Hiddingh Hall, which celebrates UCT's 175th anniversary. The exhibition consists of 175 cabinets filled with objects from all university departments, documenting achievements like the first heart transplant and first pregnancy test and other obscure objects like a calendar made from dassie teeth and more. Curiosity CLXXV is open to the public from 10h00 to 17h00 from Mondays to Saturdays. An exhibition catalogue is on sale for R250.
---
This work is licensed under a Creative Commons Attribution-NoDerivatives 4.0 International License.
Please view the republishing articles page for more information.
---