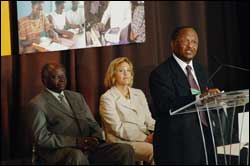 New York address: Prof Njabulo S Ndebele at the New York launch, with Kenyan president Mwai Kibaki and Judith Rodin, president of the Rockefeller Foundation looking on.
Higher education is to benefit from a revitalised Foundation Partnership for Higher Education in Africa, which was recently relaunched in New York.
The event, billed as Seven Nations, Six Foundations, One Mission, was hosted by the Ford Foundation in September and attended by about 150 guests who are all supporters of higher education in Africa.
Among the guests were several African heads of state and United Nations Secretary-General Kofi Annan, who made the opening remarks.
UCT Vice-Chancellor and Principal Professor Njabulo S Ndebele attended in his capacity as president of the Association of African Universities and was also a guest speaker.
The partnership was established five years ago when four American foundations (Ford, Carnegie, MacArthur and Rockefeller) established a US$100-million partnership to support higher education in Africa over five years in seven countries. The countries were Ghana, Kenya, Mozambique, Nigeria, South Africa, Tanzania and Uganda.
The relaunch sees two additional foundations, namely Mellon and Hewlett, joining with US$200-million pledged for the next five years.
In his address, Ndebele noted that higher education in Africa was set to benefit from several positive trends emerging on the continent, including reduced levels of conflict, a deepening of democracy and evidence of steady economic growth.
He said African leaders now recognised the role of higher education in promoting social development and economic growth. He said they saw African higher education as an asset to be valued and grown rather than a threat to be suppressed.
"They are better disposed toward the notion that higher-education institutions function better as self-governing entities within an enabling legislative environment."
He said another compelling but less-recognised role of higher education was in the consolidation of democracy.
He said the collegiality of higher education institutions, their inclination to test the strength of opinion and conclusions through discussion and debate, and their almost "legendary resilience", made them a potential source of public confidence in multi-ethnic societies experimenting with democracy.
"In this way we can appreciate that the developmental role of universities in developing societies is not only in developing human resources, but also in show casing them as an institutional type, which when functioning well, can give social confidence to the possibilities of a democratic vision."
The partnership's achievements included enhancing institutional technological capacity through greater bandwidth access, increased opportunities for African women, encouraging reforms in the governance of institutions and enhancing research capacity.
Ndebele said the relaunch was a significant act of reaffirmation in African higher education.
"We welcome it, convinced of its timeliness and relevance," he said.
---
This work is licensed under a Creative Commons Attribution-NoDerivatives 4.0 International License.
Please view the republishing articles page for more information.
---