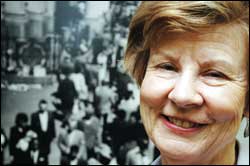 Happy mental health: As new president of the World Federation for Mental Health, it's Shona Sturgeon's job to spread the word of good mental health.
As of September, Shona Sturgeon, a senior lecturer in the Department of Social Development, has been serving as president of the World Federation for Mental Health (WFMH).
That makes her the first social worker to head this international advocacy group. And the first person from a developing nation, at that.
Chances are, though, that most people have never heard of the WFMH, which was founded back in 1948, the same year that the World Health Organisation (WHO) came into being. But while the WHO has just about become a household name - a ragbag of killer diseases helps - the WFMH has been labouring pretty much under the radar.
That makes the job of the federation, and Sturgeon, that much trickier, and more urgent.
The aim of the WFMH is to advance the prevention of mental and emotional disorders, the proper treatment and care of those with such disorders, and the promotion of mental health. It does so through its many members, which include consumers of mental-health services, and who, in their many capacities, bandy the cause of mental health. Just as Sturgeon did, at the behest of the WHO, at two high-level conferences in Bangkok and Taiwan in recent weeks.
The federation is also the brains behind World Mental Health Day, held on October 10 each year, and boasts consultative status to the United Nations. It has conducted torch-bearing studies on the physical pain associated with depression and the challenges of Attention Deficit Hyperactivity Disorder (ADHD), among other topics. In addition, it has run fruitful mental-health promotion programmes in communities, schools and workplaces.
But despite that sterling work, mental health has not quite caught the public attention it merits.
"People don't understand just how big mental illness is," says Sturgeon.
The numbers give pause, though. Mental disorders account for 12-15% of the world's total disability, more than cardiovascular diseases and twice that of cancer, says the WHO. And one in four people will develop one or more mental or behavioural disorders.
Local, national and international organisations like the WFMH thus have their work cut out for them, says Sturgeon.
"People must know that mental illnesses are just as real as physical illnesses, and that it's avoidable and treatable," says Sturgeon. "People should be able to say, 'I feel sad', just like they can say 'I've got a cold'."
And be the happier for it.
---
This work is licensed under a Creative Commons Attribution-NoDerivatives 4.0 International License.
Please view the republishing articles page for more information.
---