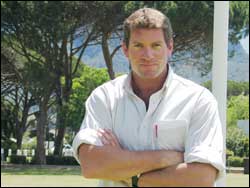 Homecoming: Alumnus Dave Mallett, new coach of the UCT Rugby First XV.
You could call them the green fields of home. Dave Mallett has no doubt spat a mouthful or two of UCT turf in his day as captain of the Ikeys first team.
The alumnus (BA HED, 1985) will travel full circle next year when he takes the mantle as the team's coach. Having coached rivals Villagers RFC this season, he's well aware of recent history; when UCT's beleaguered top team came close to being relegated to the second division. Until the canny Alan Solomon paid a well-timed house call.
The team's die-hard mantra, "Whatever it Takes", reflected the desperation - and commitment.
"Being relegated would have been disastrous," Mallett says. "It has a knock-on effect."
In many ways it's a harsh system, the safety-first dictum inhibits players and coaches.
"You just don't see an expansive or adventurous style of rugby being played by a team hanging on their place in the super league."
Speaking from Bishops, where he teaches history and English to seniors and maths to juniors, the former headmaster of Western Province Preparatory is upbeat about his new task.
"But I'm not going to varsity with the idea of being a new broom."
He will look to compound what Solomon instilled, building on the discipline and commitment among the players, backed by the solid infrastructure put in place by club stalwarts Phil Kilroe and Neil McDonald, Dugald MacDonald and Spencer King.
They'll need that discipline and commitment next season.
"It's a very tough league," Mallett reminds. "But I will be introducing a few ideas of my own." A structured game plan is essential, with enough flexibility to trigger initiative.
"In the modern game defensive patterns are so well organised that it's difficult to score off first-phase ball. Players need to retain possession and go through the phases to get through the defensive patterns."
Solomon will remain associated with the club on a consultancy basis, possibly twice a year as his rugby commitments in Ireland allow.
"Solly is the most meticulous coach I've come across in terms of preparations. I hope to learn from our association. He brought an incredibly professional approach to an amateur club."
Their links go back some years: Solomon was best man at Mallett's wedding. He also coached the young flanker when Mallett was vice-captain of the Ikeys in '84 and '85. Like his older brother Nick, now director of rugby in the province, Mallett junior has also played and coached in France (St Claude in the Jura).
There are some unique problems to work through with a varsity team: the year-end student diaspora for one. He's hoping to get the core of the team back by February 1 for pre-season training, a scientific, structured programme of fitness and conditioning.
The first league games kick off in April and he'll be looking for the team to take the ball on the front foot.
---
This work is licensed under a Creative Commons Attribution-NoDerivatives 4.0 International License.
Please view the republishing articles page for more information.
---