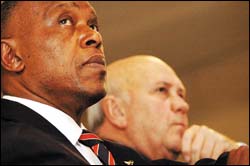 Big issues: Tokyo Sexwale and FW de Klerk muse on the topics at hand at last week's public dialogue at UCT.
They made the oddest couple.
But at a public meeting last week, former president FW de Klerk and business tycoon Tokyo Sexwale, erstwhile premier of Gauteng, were proxies for the rest of South Africa - the one-time bitter rivals who now share podiums and who, it turned out, have much in common.
That much was plain at the public dialogue, Living Together Now: Opportunities and Obstacles Facing South Africa, hosted at UCT last week, where De Klerk and Sexwale - both wine farmers, by the way - were the featured speakers. The gathering was the latest in a series of collaborations between the Faculty of Humanities at UCT and the Institute for Justice and Reconciliation (IJR), this one organised by UCT's Associate Professors Pumla Gobodo-Madikizela (psychology) and Chris van der Merwe (Afrikaans studies), and Charles Villa-Vicencio of the IJR.
The event aims to get leading public figures to bandy thoughts on hot-potato issues, with plenty of public input. The topics under discussion at last week's meeting certainly merited a few thoughts - continuing poverty, unemployment, racial estrangement, and the always thorny black economic empowerment (BEE).
There were (no surprises there) many songs of praise from both speakers to the 11-year old South African democracy.
"It was to a devastated land that peace came," hailed Sexwale, borrowing a thought made about a devastated South Africa after the Anglo-Boer War. "The new South Africa can be justifiably proud of its many achievements," cooed De Klerk.
But, peace or not, there's still plenty to be done, both agreed. Sexwale had a list - develop South Africa's skills base, privatise a few tax-guzzling industries like SAA and arms manufacturer Denel, attract more foreign investment, vamp up the poor service-delivery of local government, and sort out the "less than dignified" power struggle between President Thabo Mbeki and the ousted Jacob Zuma.
At the same time, there are also opportunities aplenty to be pounced on, Sexwale added. Like a huge regional market, the barely-tapped potential of tourism in the country, even BEE.
But while there is a sense of urgency, patience is required from the country's citizens, Sexwale urged.
"We should not be in a hurry. Judge not a young country, a young democracy of 11 years, with a yardstick of societies that have been around for a very long time."
De Klerk also touched on a number of issues, such as HIV/AIDS, education, racial harmony, and a two-tier labour market. But it was his observations on black economic empowerment that stood out.
"No one can quarrel with BEE's underlying goals," he started. "The question is, how can this ideal be best achieved in the real world?"
Government's response - more legislation - is not an answer, he said, as it posed many risks.
"How can the state determine ownership levels on an ethnic basis in an open market economy?" he asked. "If you do not acknowledge experience and merit when appointing or promoting people, you will drive away skills."
While the speakers may have sung different tunes on this and other topics, it was the spirit of the conversation that made the evening so memorable for Gobodo-Madikizela. There were a few lessons for UCT to take out of the event, she suggested.
"[De Klerk and Sexwale] really modelled what it is to begin dialogue," she said. "To see them together up there, expressing different views but listening to one another, being engaged in true dialogue, was really a highlight for me.
"And for our campus, that would be a true message."
---
This work is licensed under a Creative Commons Attribution-NoDerivatives 4.0 International License.
Please view the republishing articles page for more information.
---