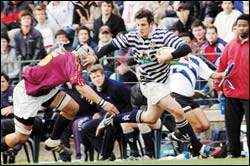 Winning style: Loose forward Ashley Downs prepares to fend off a Stellenbosch tackler in UCT's memorable 36-10 win.
When asked when a UCT winning margin over archrivals University of Stellenbosch officially qualifies as a hiding, former SA Rugby communications manager Mark Keohane joked: "When UCT beats Stellenbosch by one point, it's a hiding."
By that measure, FNB UCT's 36-10 win over Maties on September 24 - Keohane was there, by the way - must count as a thorough thrashing. It's also, by the way, UCT's biggest win over Stellenbosch, crowned national club champions just weeks ago, in donkey's years. And we're talking a really old donkey.
The clash was unlike any between the two sides in recent years, where UCT has always been on the back foot. Although the September 24 game did follow a familiar pattern at the start - UCT scored early (7-0 after a goal), and Stellenbosch then responded in time-tried fashion to take the lead with a goal of their own and a penalty.
That usually signalled the beginning of the end, but this time UCT threw the script out of the window. They first toiled to a 13-10 halftime lead with some stop-them-dead-in-their-tracks tackling, then completely overran Maties in the second half, eventually cantered to a comfortable (yes, it was) 36-10 win.
The unheard-of four tries they scored against Stellenbosch - there's another tale that will become legend - earned UCT a valuable bonus point. But with coach Alan Solomons heading back to the UK and the camp slowly disbanding, the team may not play its make-up game against Tygerberg, which could have earned them a runners-up spot in the Western Province Super League.
The side is happy to end the season with an intervarsity win, says Craig "Krusty" Kleu, one of UCT's star performers over the season.
"We've come through a really rough patch, and to finish as strongly as we did, that means a lot to the club," he says.
---
This work is licensed under a Creative Commons Attribution-NoDerivatives 4.0 International License.
Please view the republishing articles page for more information.
---