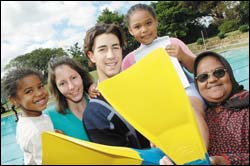 Going swimmingly: On Women's Day, SASSU-UCT's Sarah-Jane Johnson (second from left) and JJ de Castro Maia (centre) handed some swimming kit to seven-year-old Mas-oodah Cupido (on De Castro Maia's arm) as part of the committee's support to the young swimmer. Cupido's mother, Zulegah (far right), and sister, Toy-yiebah, were also on hand to celebrate the moment.
On Women's Day in August, the executive committee of SASSU-UCT took the long view.
Acting in their personal rather than official capacities, members of the committee funded the enrolment of seven-year-old Mas-oodah Cupido in the Learn-to-Swim programme at the Bellville campus of the Cape Peninsula University of Technology (CPUT).
They also made sure the keen young swimmer was properly kitted out. On Women's Day, the committee's JJ de Castro Maia and Sarah-Jane Johnson gifted Cupido with goggles, a swimming cap, training flippers, a nose clip and a kicking board.
SASSU-UCT, which oversees student sports on campus, had been approached by Mas-oodah's father, drama student Faadhil Cupido, for some assistance. He wanted to foster his daughter's passion for swimming, but did not have the means to do so.
Unfortunately, the committee has no discretionary funds in the kitty for such appeals. So members dug into their own pockets instead.
"We decided that we would support Mas-oodah as sports persons who realise that opportunities in sport are not afforded to all in South Africa, and being in a position to help create an opportunity we should," says De Castro Maia, chair of SASSU-UCT.
It's a situation De Castro Maia has become familiar with. Over the past few years, he and Margot Scheffer of the gymnastics club have been spearheading a move to get UCT sports clubs involved in a SHAWCO sports project in Manenberg.
"Operating at a tertiary level, SASSU-UCT only deals with sports persons who have already made it through the sporting system," says De Castro Maia. "And we see the problems which result in not having the right development systems for sporting youth in their early years."
The committee's generosity is a huge help for little Mas-oodah Cupido - she immediately took the flippers for a dip in the Kopano pool - but it is, they realise, just the tip of the iceberg. So SASSU-UCT is challenging other UCT clubs to also lend a hand.
"We just want to get other clubs fired up to take on similar projects," says De Castro Maia.
---
This work is licensed under a Creative Commons Attribution-NoDerivatives 4.0 International License.
Please view the republishing articles page for more information.
---