Important fellowship and award on offer
Two important opportunities exist for academics and researchers at UCT.
The first is the Harry Oppenheimer Fellowship Award 2005. The second represents the suite of honours available through the National Science and Technology Forum Awards.
The Harry Oppenheimer Award is one focused unambiguously on excellence and is granted to candidates of the highest calibre. The award will enable them to undertake a programme of cutting-edge, internationally-significant work in the full range of disciplines.
Only candidates of exceptional quality will be considered for the monetary award of US$125 000, which will underpin a programme of work for a full year. Candidates will be leading scholars who have been active in research for many years.
For more information contact Joanne Brinkman on ext 2433, or e-mail westj@bremner.uct.ac.za. The internal deadline for applications is Friday, October 14.
Nominations for the NSTF awards, spotlighting the science, engineering and technology fields, can be made in three categories: awards for individuals; awards for research capacity developers; and awards to black researchers.
If you would like to nominate someone, please inform Joanne Brinkmann on ext 2433, e-mail westj@bremner.uct.ac.za by Monday, October 10. Completed nomination forms must reach the Research Office no later than Monday, November 14.
For more information and nomination forms please visit http://nstf@csir.co.za westj@bremner.uct.ac.za.
Scholar cements his reputation
Emeritus Associate Professor Mike de Kock has received honorary membership of the Concrete Society of Southern Africa for his outstanding contributions to the society and to the industry in general. The formal announcement was made at the 2005 Fulton Awards Western Cape review dinner. De Kock's academic career spans 50 years in the field of structural engineering and materials. He is a past recipient of a Distinguished Teacher Award.
Postgraduate Open Day
Hundreds of people attended UCT's annual postgraduate open day at the Leslie Social Sciences Building on Saturday, September 10. All faculties had exhibitions focusing on their international study opportunities and career development options for prospective postgraduate students. Organiser Thenjiwe Kona said she was pleased to see how many staff members turned out to participate in the event, particularly heads of departments and deans.
Environmental governance lecture
Prof John Dryzek of the Research School of Social Sciences, Australian National University, will present a lecture titled Environmental Governance: Beyond Ecological Modernisation, on Thursday, September 22, at 13h00. The venue is Studio 5 in the Shell Environmental and Geographical Sciences Building, South Lane, on the upper campus.
Kaplan Centre celebrates silver anniversary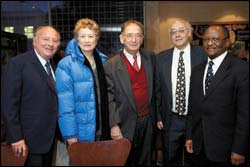 (Above, from left) Mendel Kaplan, Elana Bauer, Prof Yehuda Bauer, Prof Milton Shain and Prof Njabulo Ndebele at the Kaplan Centre's 25th birthday commemoration.
The Isaac and Jessie Kaplan Centre for Jewish Studies and Research turns 25 this year. To commemorate the occasion, the centre hosted a public lecture at the Albow Centre, which houses the Cape Town Holocaust Centre, in Cape Town on September 1. The guest speaker was Prof Yehuda Bauer of the Hebrew University in Jerusalem, Israel, one of the world's foremost scholars on the Holocaust. Bauer delivered a talk on Shoah and Genocide: Have We Learnt Anything? (Shoah is a Hebrew word for the Holocaust.) Guests at the preceding dinner and the lecture included many of the centre's patrons, supporters and graduates over the past 25 years, as well as vice-chancellor Prof Njabulo Ndebele and Prof Paula Ensor, dean of the Faculty of Humanities. The Kaplan Centre was established in 1980 thanks to a gift to UCT by the Kaplan Kushlick Foundation, and is named in honour of the parents of Mendel and Robert Kaplan, both of the foundation. The centre's activities are wide-ranging. It has regularly hosted leading visiting scholars, convened major conferences, mounted exhibitions and conducted critical research, mainly dealing with South African Jewry.
Muslim fund reaches out to students once again
The Hospital Welfare and Muslim Education Movement (HWMEM), loyal supporters of UCT students since the early 1960s, have made yet another contribution to the university coffers. Recently, four members of the HWMEM executive made their annual trip to Bremner building to hand over the organisation's latest cheque, which goes into the UCT bursary scheme. DVC Prof Thandabantu Nhlapo accepted the award, worth just over
R100 000
from, from left, Noor Ebrahim Bawa, Nazeer Khalfe, Mohamed Omar (a UCT staffer) and Noorie Fakie. Students of all genders, races and creeds, will again benefit from loans from the HWMEM scheme this year. While they are under no obligation to repay these interest-free loans, they are encouraged to do so and thus help students who follow in their wake.
Wellness Week in October
Did you know that the five ailments topping the list among UCT staffers are hypertension, cholesterol disorders, menopausal and pre-menopausal disorders, depressive episodes and asthma? That's according to our medical aid provider Discovery Health's statistics (confidentiality is always maintained). Organisational health manager Ottoline Clapham says emotional and domestic stressors top her list, reflected from her organisational health utilisation employee care data. This means we probably all need to look at lifestyle and stress management as a matter of urgency. Wellness Week will help you do just that. Please diarise October 12 to 14, when a cornucopia of exhibitors will be on hand from 11h00 to 15h00 daily to check vital cholesterol levels, blood sugar and so on. There will be more on the programme in the forthcoming editions of Monday Paper.
---
This work is licensed under a Creative Commons Attribution-NoDerivatives 4.0 International License.
Please view the republishing articles page for more information.
---