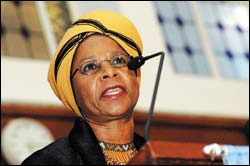 Dr Mamphela Ramphele.
South Africa got a mixed report card from Dr Mamphela Ramphele, who delivered this year's Steve Biko Memorial Lecture, focusing on Citizenship as Stewardship.
Each year, UCT hosts the annual lecture in Jameson Hall in what has become a highlight of the university calendar. This year's event was dedicated to people who were victims of torture prior to Biko's death in detention in 1977.
Among the country's successes Ramphele cited were a transformative national policy framework to tackle the legacy of inequity, a stable macro-economic framework, a growing economy and a growing middle class, as well as progressive policies flowing from the Constitution.
However, she said there were still too many South Africans left behind "in poverty, despair, powerlessness (and) with little prospect of being heard".
A key constraint seemed to be a failure to acknowledge and address human and intellectual capital weaknesses in a systematic and consistent manner.
"We spent too much time post-1994 in denial about the extent to which apartheid education had damaged our skills base," she said.
Focusing on key performance areas for this country, she urged citizens to use the vote "as a powerful tool" to express approval or disapproval of those in public office. She also called for greater professionalism among civil servants, too many of whom "failed to pass the test of common courtesy to citizens who were entitled to public services".
In a swipe at government, she said skilled professionals were being denied job opportunities because they were outside the party political networks. The private sector also came in for criticism for asking "what the state can do for them rather than what they can do to contribute to a more prosperous society with greater equity".
She said if everyone had "co-invested in the development of high-level skills over the past 11 years, we would have broken the back of the legacy of skills shortages by now".
Finally, she also called on the media to be a better watchdog as "no democracy can function adequately without a robust, free press".
In addition to the Biko lecture, UCT is to host the Stephen Bantu Biko Leadership Fellowship Programme as part of the Chancellor's Challenge 175 campaign. Ramphele said the new fellowship would "further cement the great partnership between UCT and the Steve Biko Foundation".
Biko was also the talking point at a lunchtime meeting at the Faculty of Health Sciences. As the dean, Professor Gonda Perez, pointed out, the anniversary of Biko's death hits close to home - the faculty will long remember that graduates from its campus were among those who covered up Biko's torture. On the other hand, said Perez, it was also a band of UCT graduates and staff - like the late Emeritus Associate Professor Frances Ames - who stuck their necks out and put pressure on the apartheid government to reveal the truth about Biko's death in detention.
Also among that group was former vice-chancellor Dr Stuart Saunders, who spoke at the faculty's lunchtime meeting on the lessons learnt from Biko's death and the cover-up surrounding it.
"The particular lesson for the medical profession," said Saunders, "is to be determined to retain its professional independence, and not to rationalise or compromise under pressure. The patient always comes first."
---
This work is licensed under a Creative Commons Attribution-NoDerivatives 4.0 International License.
Please view the republishing articles page for more information.
---