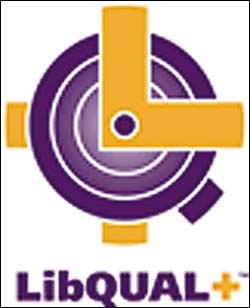 Fast-food places settle for white postcards with a few smiley faces. But when it comes to measuring the quality of its service, that just won't cut it for UCT Libraries. Instead, the libraries are calling in the big guns for its upcoming quality-assessment survey. [And in case anyone missed the headline above, here's the teaser again - three iPod minis, each able to carry around 1 000 songs, are up for grabs. Please read on.]
To make sure they deliver the best possible service to the university community, UCT Libraries are putting their reputation on the line.
Come September, the libraries will launch a large-scale survey using a piece of software (and some services) called LibQUAL+, which it has purchased from the US-based Association of Research Libraries (ARL) and Texas A&M University Libraries. LibQUAL+ more than just churns out numbers about who uses libraries and why, although it does that too.
Instead, it weighs in detail the perceptions and expectations of users around three categories: affect of service (how helpful and caring are the librarians, for instance); information control (what resources can be found in the library); and library as place (just how nice a haunt is it). The programme is made to measure for use in university and college libraries, among others, and is based on a tool widely used in the service industry.
Its findings have already spawned about 400 scholarly articles.
The survey is made up of 27 core questions, as well as a box for comments, which the software can also unpack for nuances. It's placed and completed on the web - the UCT Libraries will dedicate a spot on its site to it - and information is posted directly to ARL, which analyses the data.
The association then generates a warts-and-all report and scores of detailed charts. These will tell UCT Libraries just how it stacks up, in general and among different constituencies (undergraduates, postgraduates, academics and even Pass staff). It will also highlight areas where the libraries do really well, and those where work will be required.
"What the survey asks people," says Joan Rapp, executive director of UCT Libraries, "is what do you want from the library; what are your highest expectations; what is the minimum you'll accept; and what do you think you're getting? We know a lot of the things about what people need from the library, but we don't know the level to which we meet those needs."
UCT was the first institution in Africa to sign up for LibQUAL+, joining 202 others (around 550 libraries) around the globe. And, following a conference in Stellenbosch last year, the University of Stellenbosch, Rhodes University, the University of Pretoria and North-West University will also conduct LibQUAL+ surveys, with a few more likely to follow suit soon.
By gentleperson's agreement, no "comparative advertising" is allowed among institutions. That said, the surveys will allow UCT to compare notes with these local and international libraries. And that takes some courage, notes Rapp.
"What we're saying is that we're willing to benchmark ourselves. We don't know how we're going to turn out, but we're willing to say, here are libraries from across the world, and you can compare the results."
And now to those iPods. At UCT, around 8 000 students, academics and staff - which make up about a third of the university's population - will be randomly selected to take part in the survey, although others can also volunteer to do so. To be eligible for the iPod, a user will have to complete the entire questionnaire, which will take about 10 to 15 minutes to fill in. And no willy-nilly clicking will be allowed, as LibQUAL+ is designed to pick up on discrepancies in responses.
UCT Libraries hope that people will take part for reasons other than just a desire to win a hip gadget. Like wanting to get the best out of the university's libraries.
"LibQUAL+ is a very high-quality instrument," says Rapp. "It's going to tell us what we need to know, and it's going to give us a basis for setting our service for the next several years."
And to make sure no one loses their edge, the surveys will become an annual feature.
---
This work is licensed under a Creative Commons Attribution-NoDerivatives 4.0 International License.
Please view the republishing articles page for more information.
---