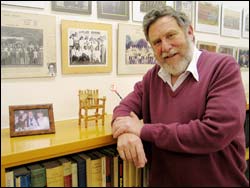 Creative mind: Prof Ralph Kirsch, recipient of the South Africa Gold Medal, one of very few medical doctors to receive this prestigious science award since 1908.
The walls on Ralph Kirsch's office are chock full of memorabilia - mostly the academic kind: awards, plaques, certificates and fellowships. On the opposite wall are the pictures: children, grandchildren, students, celebrations and graduations.
They reflect two personas: Kirsch the esteemed and much-honoured academic, and Kirsch the man, someone with a reputation for irascibility but always big hearted, keen to serve.
His stature and contributions to academia and liver medicine prompted colleague Professor Peter Meissner to put him forward for the South African Gold Medal, awarded by the Southern African Association for the Advancement of Science (the ceremony is on November 2 when Kirsch will deliver the Marloth Commemorative Lecture).
Dating from 1908, the list of awardees impresses, including luminaries like Sir Harry Bolus, Sir John Carruthers Beattie and Distinguished Professors George Ellis and Brian Warner. Significantly, only seven candidates registered are medical men. The remainder are scientists, which calls attention to the formers' achievements.
In nominating Kirsch, Meissner was keen his former mentor's lifetime contribution and achievements in liver research, internal medicine and medical education receive their due.
Kirsch's current research interests include porphyria and cardiovascular and immune dysfunction in liver disease. He lists a total of 452 publications (12 of his papers have more than 50 citations).
Meissner wrote: "I believe it paramount and entirely appropriate that such a distinguished contribution by a South African scientist be recognised at absolutely the highest level of scientific honour in this country."
A graduate of UCT, Kirsch has negotiated the medical and academic streets of Groote Schuur Hospital for 40 years (today, he is lamenting the pile of paperwork that requires attention). His formal career winds up at the end of December and he's "going flat out" until the last day.
What's next? It's under wraps, he says. There are several options he's exploring. His wife Beverley (also a UCT graduate, as are their sons, David, Richard and Derek) writes books on African languages. He hints that she'll be glad to have him busy. And after the pace he's worked, it will be a relief to ease the throttle a little at a time instead of pulling to a jarring halt.
Kirsch reminisces easily. There is a sense that the peers and colleagues he cut his academic teeth with saw the medical school through some heady, and dark days; from heart transplants to the shadow cast by medical complicity in Steve Biko's death.
A highlight was creation of one of UCT's first Medical Research Council units, the MRC Liver Research Group, formed in 1973 and co-directed by Dr Stuart Saunders and Professor John Terblanche. Kirsch took over from Saunders when he left to perform his "tightrope" duties as vice-chancellor. Today, Meissner and Professor Del Kahn are at the helm.
One of the apartheid legacies that still rankles Kirsch concerns the colleagues forced into exile, people like Sir Raymond (Bill) Hoffenberg, a mentor to the young clinician.
"I had the advantage of working with very creative people." Did he have an alternative career? Absolutely not.
"I was always dead keen to do research," he says, adding: "Perhaps teaching. I always loved teaching."
Meissner bears this out.
"His career as a clinical scientist, a basic scientist, educator, academic, mentor and leader in various capacities is possibly without equal in the current era."
It's telling that the awards Kirsch counts most dear are the Distinguished Teacher Award he received in 1982 (he was one of the first three recipients) and his UCT Fellowship (1983). These accolades were awarded by his peers.
"They were less likely to have the wool pulled over their eyes," he adds in jest.
Only six UCT academics have received both.
"Research and teaching are closely aligned," Kirsch says. "If you're a good researcher, you know the field first-hand, and you should enjoy communicating that excitement to others."
As Meissner points out, a hallmark of Kirsch's contribution has been the quest to research, understand and apply a scientific basis to all he does or strives to do.
The son of a fruit farmer from Wolseley, Kirsch talks easily about growth, finding a human parallel in his students. In 30 years he has trained 21 PhDs.
"As a teacher, you try to create an environment you would like to have grown in yourself." He encourages students to be curious, to ask questions, admiring creative minds.
"But it can get you into trouble,' he notes.
Kirsch recalls an incident from his school days (he's a Rondebosch old boy).
"Sir, can't you do it another way?" he asked his maths teacher.
To which the teacher replied, "Kirsch, elephants shouldn't try to fly."
In academia, Kirsch found space to ask questions. As Meissner points out, his contribution does not simply reflect "routine excellence".
"Behind all of his work lies a compassionate, loving and trusting person, with many bold and enterprising ideas. He has the capacity for critical analysis and comprehension, a dare-to-challenge attitude to life and a tenacious (sometimes dogmatic) persistence and a prodigious capacity for hard work and willingness to serve."
Kirsch has served his profession in some humble ways. He was the SACS "rugby doctor" for 10 years as his own three sons mauled their way through the rugby ranks at school - mornings spent tramping sodden earth, tending to injuries.
In thanks, the school awarded him rugby colours, a gesture he treasures.
Of his own career as a front ranker, he's loath to comment.
"I played bad rugby for UCT," he says brusquely.
What will he take from the awarding of the South African Gold Medal?
Top of the list is being part of an esteemed company of scientists and pioneers.
"It's also an award to the liver centre and to the many PhDs who've passed through the Department of Medicine."
He is vocal about research and its catalytic role in the future.
"Research should be the most powerful driver of the transformation process. We have the most under-utilised pool of talent in the world after apartheid denied people access to opportunity.
"Those people who made it through such a dreadful, discriminatory system are far better than us and more likely to make a massive impact in this country and to do better than we've done. If you are a real teacher, you always want your student to be better than you are."
by product of his many overseas links has been travel. His visiting professorships alone have taken him to Australia, England, Europe, the United States, Chile, Canada, Israel and Taiwan.
Not bad for a boy from Wolseley who used to watch the daily plane pass overhead, little dreaming his own journey would take him far and high.
---
This work is licensed under a Creative Commons Attribution-NoDerivatives 4.0 International License.
Please view the republishing articles page for more information.
---