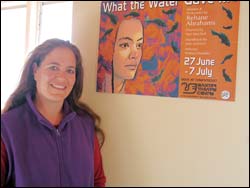 Stage business: Through her original productions Sara Matchett hopes to create a synergy between community and mainstream theatre.
These days watching a play doesn't necessarily mean sitting in an auditorium or theatre with professional actors declaiming dramatically from a stage.
Take three houses in different areas of the West Coast town of Darling (as theatres), add 10 of the town's women (as storytellers), and you have the makings of a community-based theatrical performance.
For her master's thesis in theatre making and performance, Sara Matchett will spend six weeks working with these women. Through a series of workshops, she will explore these women's stories and the domestic spaces they live in, and they will then perform their stories together with professional actors in the sitting rooms of the Darling houses.
As part of the Voorkamer Festival to be held in Darling later this year, Matchett hopes her production's use of transport (a taxi is used to cart the audience from house to house) and houses as the sites of performance will create a synergy between community and mainstream theatre.
"Darling is a divided town, with a railway line separating the white and coloured communities," says Matchett. "There are even further subdivisions within the coloured community. By using women and houses from both communities and areas, theatre can be used to facilitate communication across boundaries." It will also be a way to engage the audience both from within and outside of Darling.
"In small towns, people live on top of each other but there is no connection or sense of community. I am interested in how theatre can be used to overcome this. I would then like to bring this concept into the city environment as well," she added.
Matchett has a long association with UCT (she completed her Performer's Diploma in Speech and Drama and a BA in 1990, her honours degree in 1995, and has taught various courses in the department) so it was no surprise that she chose to return to the drama school to undertake her master's.
"Being at UCT, I have access to resources such as the library and expertise in the form of my supervisor Yvonne Banning. The programme also allows me to critically reflect on the work I have done in my career so far and find a way forward. It allows me to stop and reflect on what I am doing."
What she is doing is developing her work with The Mothertongue Project, a collective of women performance artists, writers, visual artists, musicians and arts educators who explore the keys to the empowerment of women and practical processes of healing and transformation through the power of theatre, storytelling, visual arts, music and creative writing.
"The focus is on empowering participants to discover and recover their own resources for self-healing," she explains.
"We need to realise how powerful theatre is for social transformation. It deals with issues and allows the magic of theatre to create resonances with people on another level."
About the programme
The Master's in Theatre and Performance (Theatre Making) focuses on creating theatre pieces in a South African tradition of collective theatre making. All of the practical explorations, together with the final thesis production that map the student's critical enquiry, are therefore original South African works. The programme offers theatre practitioners - directors, actors, playwrights - the opportunity to explore and develop their individual impulses within the practice of making theatre. The aim of this course is to produce mature, highly skilled, independent and creative theatre practitioners capable of creating, producing and managing their own work.
---
This work is licensed under a Creative Commons Attribution-NoDerivatives 4.0 International License.
Please view the republishing articles page for more information.
---