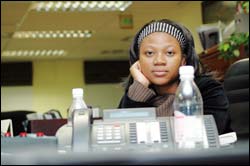 Moving on: Faustina Akakpo after another long day at the office.
Faustina Akakpo graduates from the Sanlam Investment Management Extended Curriculum Programme (SIM ECP) in the Faculty of Commerce next week.
Actually, Akakpo trimmed a whole year off the five-year programme, which is one year longer than the mainstream business science degree, designed to assist students from disadvantaged backgrounds. She decided after just two weeks into her studies that she wouldn't need the extra time.
"I didn't think that I came from a disadvantaged school," says Akakpo, who matriculated from Queenstown Girls' High, a Model C school in the Eastern Cape.
Presently, she works as a trainee at Cadiz, a financial services company based in nearby Claremont, where she's learning all aspects of her trade at the feet of some truly clever people, she says. The job has its perks, but it's not all moonlight and roses, though.
"I'm extremely stressed," she says, although you wouldn't tell from the bright smile she is still able to flash after yet another late night at her office. "Quite a lot is expected of you."
Stressed or not, Akakpo is just beginning to find her feet in the hurly-burly business world. She still aims to become the world-beating businesswoman she always dreamed of being, although the details - what kind of business - are still fuzzy.
Ramona Francis, coordinator of the SIM ECP programme, believes Akakpo has what it takes to succeed, no matter what the task at hand.
"Faustina has been one of the most all-rounded individuals among the over 220 BBusSc students that I am responsible for," says Francis. "She never hesitated to go the extra mile in order to support me and anyone of her fellow students, and to accomplish her own academic goals."
Akakpo's on-campus CV bears out Francis' praise. She helped with the induction of first-year students for the past few years during the orientation period, was a member of a team that developed and ran a time-management workshop for first-years, was a member of the marketing team that introduced the commerce degrees to local township schools, and participated in the UCT Open Days as an assistant to encourage other students to take on the challenge of the BBusSc. A few months ago, she returned to campus to give a motivational talk to the current first-year BBusSc SIM ECP students.
"She has been a wonderful support and role model to her fellow students over her time at UCT," says Francis.
Akakpo thrived in the university environment.
"I loved doing all that stuff," she says. "At high school, I was very introverted. But at university, I had the space to be the person that I couldn't be before. And doing all those things really enhanced my life."
It's a life that's just beginning to pick up steam.
---
This work is licensed under a Creative Commons Attribution-NoDerivatives 4.0 International License.
Please view the republishing articles page for more information.
---