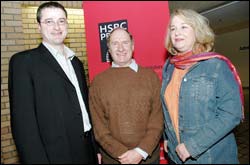 Looking forward: Paul Haupt, Prof Don Foster and Marésa de Beer are the authors of Theatre of Violence.
By virtue of its subject matter alone, The Theatre of Violence: Narratives of Protagonists in the South African Conflict will no doubt cause a stir.
Released by the Institute for Justice and Reconciliation (IJR) and written by Professor Don Foster of UCT's Department of Psychology and two of his former students, Paul Haupt and Marésa de Beer, the book picks up where the Truth and Reconciliation Commission (TRC) left off. Specifically, it tries to find reasons behind the violence that went hand in hand with apartheid.
The "quasi-judicial" amnesty hearings of the TRC, says principal writer Foster, were more about the hard facts of the political violence - who did what to whom, where and when they did it, and how. What the commission often failed to consider were the whys.
"It was not the perfect vehicle to get the full story of why people committed violence," notes Foster.
In response, Theatre of Violence is centred on the stories of perpetrators, compiled from 300 hours of interviews conducted by Haupt with members of both the security forces and the liberation movement. Included are former members of self-protection units and the like that played a role in township conflict since the 1970s.
In general, three clusters of stories came out of the interviews - those of policemen and armed forces personnel who did what they did, they say, because it was their job (there's little mention of idealism); those victims-cum-perpetrators of the liberation movement who remember the agonies of the time but also recall the struggle with pride and a sense of a collective; and the township youth who can't recall why exactly they took up arms, and are filled with regrets and have not reaped any rewards, they feel, from democracy.
It's unlikely that Theatre of Violence will spark the same backlash as Foster's 1987 book, Detention and Torture in South Africa, when his house was regularly broken into and he received a spate of death threats. But the new book has its share of talking points.
Like the decision to put the stories of all "perpetrators" - the writers dedicate many passages to exploring this term - side by side. While the book draws a clear line between state and liberation-movement perpetrators, lumping the stories together doesn't go down well in many circles, admits Foster.
"It's a contentious approach, but it's something that we have to face up to in South Africa," he says. "Even the TRC admitted and conceded that violence was committed by both sides.
"And, from a theoretical perspective, we wanted to get a more rounded picture."
There are other touchy areas in the book. By allowing the perpetrators to tell their stories in their own words, for one, the authors run the risk of "appearing to exonerate their deeds or even showing empathy towards [them]". In his foreword to the book, Dr Charles Villa-Vicencio, executive director of the IJR, even starts with a cautionary quote from nineteenth-century salon hostess Madame de Stael: "To understand all is to forgive all."
That danger, says Foster, is par for the course for psychologists.
"The rest of the world can put perpetrators into different camps, as evil or monsters or even as good Christian 'boeties on the border'. But as psychologists, we have to get closer to the truth and understand that there may be more than one picture of these people.
"And when it's all over, there is no sign that these people are intrinsically monsters."
Even then, the authors can offer but a bittersweet take-home message. Firstly, they propose a bold new lens under which to study political violence. Notwithstanding the usual triggers (authority, ideology, a sense of masculinity), perpetrators did what they did because they wanted to, say the authors. "In all of these stories, there's no one that said they did these things reluctantly," notes Foster.
But there's also a light at the end of the tunnel. With hardly an exception, the perpetrators are very open to reconciliation, says Foster.
"Almost all of them say they want to contribute to building society. And they want to be included in this new society."
Like the "partly-healed" people of Thebes of old, South Africans still have their wounds, the writers conclude. But with tyrannical rulers now departed, there is hope.
---
This work is licensed under a Creative Commons Attribution-NoDerivatives 4.0 International License.
Please view the republishing articles page for more information.
---