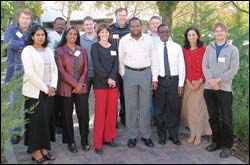 Mind your Ps and Ys: (From left, back) Assoc Prof Zig St Clair Gibson (human biology) Dr Pilate Moyo (civil engineering), Dr David Root (construction economics and management), Prof Tim Noakes (human biology), and Assoc Prof Gary Marsden (computer science). (From left, front) Christina Pather (research office), Prof Anusuya Chinsamy-Turan (zoology), Dr Ernesta Meintjes (human biology), Dr Maano Ramutsindela (environmental and geographical science), Prof Bongani Mayosi (cardiology), Prof Cheryl de la Rey (DVC, research and innovation), and Assoc Prof Anton Fagan (private law).
"Success is not about the science but about creating the environment in which science can flourish," Professor Tim Noakes told a gathering of Y- and P-rated researchers at a networking function.
Each of the books in the briefcase he brought along illustrated points from his short motivational talk: the good, the bad and the ugly, scientifically speaking.
Noakes (human biology) and Professor Anusuya Chinsamy-Turan (zoology) were guest speakers at the event, hosted by the research office to advise young researchers about developing their careers.
P- and Y-rated scholars belong to the National Research Foundation categories that recognise emerging talents among the academic community's young cadre of PhDs, usually under the age of 35.
The President's Awardees (P-rated) are those protégés who have what it takes to become future leaders in their fields. Y-rated researchers are knocking on the door; they have the potential to establish their credentials within five years of NRF evaluation.
Tracing her history through apartheid education and cultural gender stereotypes to the present, Chinsamy-Turan said her father didn't encourage her to succumb to the ordinary or the average, urging her to study - and to study further.
Bolstered by the self-confidence her family instilled, she never settled for local journals if there was a chance of making the pages of international publications.
"If Nature doesn't accept your paper, try Science," she advised. "Don't be shy to aim high".
Chinsamy-Turan advised the up-and-coming group to present their research at international conferences and to ensure that their presentation is "really great and that it will be remembered". It is vitally important to "be visible" in the scientific community.
"And don't be afraid of challenging the paradoxes out there," she tipped.
Sifting through his experiences, Noakes presented 10 nuggets of wisdom for researchers:
There is never enough money to do the research you want to do, so don't waste your time complaining. ("Science is the easy part, funding is the difficult part.")
Make your research concept simple to understand. You must be able to explain it to the public in simple terms
Honour every request for an interview in the media - and if all they manage to report is that UCT is doing something new, branding the university benefits everyone in this community. Look after your relationship with the media and raise the profile of your research in the media.
Study the paradoxes, the things that can't be explained by current models, no matter how long it takes
Study what's unique in your environment (Noakes homed in on the local Comrades Marathon, a unique race with a huge pool of subjects and data.)
You must believe that you are going to make a world-changing finding before you start
Read your heroes in the field - they're not that different from you. You also have creativity and endurance and self-belief
Don't believe you can't be wrong ("Many great scientists have ultimately failed because they fell in love with their theories and could not believe they were wrong.")
Establish research collaborations. Humans evolved to exist in small, collaborative groups, each benefiting from the others' special skills. To sustain success you need a flat organisational structure, not a hierarchical bureaucracy
There is always another rule. ("When you think you know it all, it is time to move on before your ignorance is exposed.")
He urged the assembly to take up heart surgeon Chris Barnard's torch.
"We desperately need more of these pioneers. Be the best scientist you can be."
---
This work is licensed under a Creative Commons Attribution-NoDerivatives 4.0 International License.
Please view the republishing articles page for more information.
---