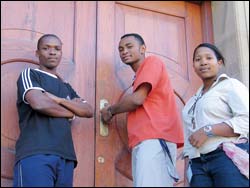 Opening doors: Rural Support Network members (from left) Xolani Nene, chairperson Nicholus Makofane and Sindiswa Dlamini.
Watching a team of four doctors battling to service a rural Swazi community through a local hospital made an indelible impression on second-year medical student Sindiswa Dlamini.
Going back to the small country of her birth during the December vacation brought their plight home. But after her experiences through UCT's Rural Support Network (RSN), the young doctor-in-training is determined to return one day, with her qualification tucked under her arm.
Talking to Dlamini in the RSN headquarters in the Barnard Fuller Building, she laments the diaspora of African doctors to the first-world, where hospitals are managed as businesses, fielding squads of highly-specialised personnel.
Conditions at the Piggs Peak Government Hospital, where she was billeted during her summer vacation, were startling different. There are few experiences that can provide such an overarching view of what awaits her as a rural doctor one day. And the knowledge will no doubt shape her university learning.
"I want to be exposed to as much as I can. A lot of what you learn in the first years at medical school is theoretical. But in the hospitals out there you get to see what we learn about in books."
A student society, the RSN was established in 1996 by a group of medical students who wanted to address the shortages of health professionals in rural areas. Those who sign up will be well-prepared for the mandatory one year of community service once they have completed their internship.
The RSN has 120 members, all the way to sixth year, chairperson Nicholus Makofane, explains. Makofane heads an executive committee of seven. Earlier this month the RSN met to prepare students for the upcoming June vacation. Many of the students who have completed stints in country hospitals share their stories at these forums.
"It's very satisfying," Dlamini adds. "You're needed there. The shortage is so great."
They've had good support from rural medical facilities, keen to have the students shadow their doctors and even perform rudimentary procedures like measuring blood pressure.
Xolani Nene from KwaZulu-Natal has been posted to several hospitals since he joined the RSN in 2003. He listened to the network's presentation during first year and was hooked.
"I was very interested in what they did."
His Ladysmith Provincial Hospital posting in December was his second there. This time the orthopaedics department seconded him. By the time he left he could name all the fractures that patients presented.
"Hospital managers struggle to recruit staff to these rural places," he says. "Sometime patients leave unattended. I believe everyone has a right to health."
Importantly, he noted how hospitals work - and just how stretched doctors were.
Dlamini worked in every department at Piggs Peak, observing the medical staff performing routine checks like blood pressure. She also witnessed a caesarean section and saw antiretroviral treatment being dispensed.
But it's the hospital's community outreach programme that she talks about. This reaches far-flung settlements three times a month. Many children in these communities receive medical care through their schools.
"People are really isolated and the transport network is very bad."
"Many of the RSN's members grew up in rural areas," says Makofane. "They know the need."
---
This work is licensed under a Creative Commons Attribution-NoDerivatives 4.0 International License.
Please view the republishing articles page for more information.
---