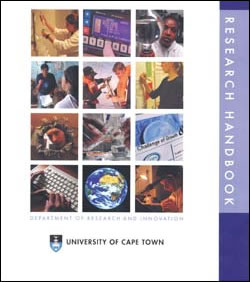 Best seller: The cover of the brand new Research Handbook, which is being delivered to the research community at UCT.
They've been hitting desk tops around campus with a resounding thunk.
The new Research Handbook has arrived, thanks to Research and Innovation's research information manager, Christina Pather.
Pather has spent the best part of a year gathering a comprehensive list of information that she has compiled into what appears to be an exhaustive guide for the research fraternity (loud cheers).
The handbook will guide both experienced and inexperienced through the maze of dos and don'ts, how tos and where tos.
"Briefly, the Research Handbook provides information on funding opportunities, as well as on research policies and procedures at UCT," Pather explained.
Although much of the information is available on the UCT website and intranet, the aim of the handbook is to provide researchers with a simple management resource to navigate their way through the various research-related processes.
There are 14 sections, covering everything from research policies and research ethics to fellowships, NRF ratings, information management systems, visiting scholars and research committees. Each chapter is tabbed for easy access. Some promise to be well-thumbed, such as the chapter on research funding.
Because of the nature of its content, it will be updated regularly, page by relevant page, hence the accessible ring-binder format. When a new section arrives, the old one slips out and the new one in.
The handbook is filled with interesting and hard-to-come-by information. For those still trying to figure out whether IRMA will NAPP with CHED on the SETI, there is a long list of common and not so common acronyms up front. (see sidebar on this page).
It also contains an invaluable list of faculty contacts, such as finance managers, research accountants, grant administrators and so on.
The handbook looks at other countries' research experiences, taking examples from Canada, one of the top five countries in research and development, and Australia. There are two local examples, using case studies from Wits and the North-West University.
If you are a permanent, T2 or T3 member of the academic staff, expect one to land on your desk soon.
The handbook is available in electronic format - go to http://web.uct.ac.za/depts/dri/.
Well done to the Department of Research and Innovation!
---
This work is licensed under a Creative Commons Attribution-NoDerivatives 4.0 International License.
Please view the republishing articles page for more information.
---