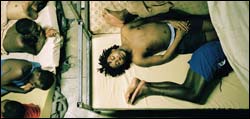 One of Mikhael Subotsky's works.
Die Vier Hoeke, a photographic exhibition by award-winning UCT alumnus Mikhael Subotsky, will be shown at Pollsmoor Prison on Freedom Day on April 27.
The exhibition will be held in the cell in which Nelson Mandela was incarcerated during his four years at the prison. It will provide the public with a unique, once-off opportunity to enter the heart of Pollsmoor's Maximum Security Prison and to attend a cultural event in this historic venue. The exhibition will only be open between 09h00 and 15h00.
Die Vier Hoeke consists of a body of photographic work that won the Michaelis Prize at the Michaelis School of Fine Art. It also includes new images from prison, the products of a series of photographic workshops that Subotsky is running with prisoners at Pollsmoor, Body Maps from workshops with prisoners facilitated by Jane Soloman, and other prisoner-produced artworks.
Unique access was gained by the artist to photograph inside three prisons in the Western Cape. This exhibition allows for the work to be seen in the very context in which it was produced. It is also designed to allow some of the prisoners who were photographed to see the exhibition themselves. "Historically, South African prisons have been brutal instruments of racism and oppression under colonialism and the Apartheid regime, incarcerating many of our political leaders," Subotsky said. "Prisons are thus firmly rooted in the consciousness of this country. Today, South African prisons are grossly overcrowded and understaffed, and subject many of their inhabitants to appalling living conditions. South African has one of the highest rates of incarceration in the world and currently holds over 187 000 prisoners in facilities designed for 114 000. This massive overcrowding combines with an overbearing gang culture to produce a prison environment which is unsafe for both prisoners and warders. The constant flow of men and women in and out of this system means that what happens in prison directly influences the outside world. The conditions in prison should thus be of great concern to every South African."
The opening function will be held at 10h00 on the April 27. Please RSVP to Claire on 0832973937, or claire@invisiblesun.biz. If you wish to attend this event, please arrive by 09h30 at the latest. Pollsmoor Prison is on Steenberg Rd, Tokai, between the Tokai Rd circle and the turn-off to Oukaapseweg, and opposite the Steenberg Golf Estate.
---
This work is licensed under a Creative Commons Attribution-NoDerivatives 4.0 International License.
Please view the republishing articles page for more information.
---