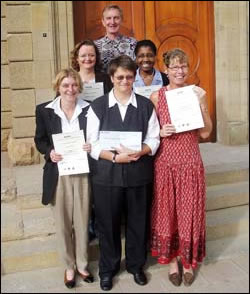 Medical mavens: Judge Dr Athol Kent (back) with the winners at the recent Saahe conference at UCT: (middle, from left) Prof Marietjie de Villiers, and Dr Cynthia Sikakana; (front, from left) Dr Linda de Villiers, Prof Vanessa Burch, and Dr Wendy McMillan.
Health education in South Africa has been in flux in recent times as institutions, taking their cue from international trends and the changing demands of the country, tweaked and overhauled their suites of medical programmes.
In the light of some sweeping changes, it would make sense then for educationalists to get together occasionally and swap notes. Opportunities to do so, though, are few and far between. Until last year, that is, when the Western Cape branch of the South African Association of Health Educationalist (Saahe) organised a regional conference, the first provincial group in the association to do so.
Here, academics, practitioners and a handful of students from UCT, the universities of Stellenbosch and the Western Cape, and the Cape Peninsula University of Technology (CPUT) met and shared their experiences and ideas.
Two weeks ago, the group hosted its second such conference. This time it wanted the event to be more inclusive, and invited speakers from other parts of the country for two jam-packed days of talks, workshops and panel discussions. In the over 50 presentations over April 8 and 9, delegates - including students from the four local institutions - covered issues of quality assurance, community-based education, the assessment of clinical performance, multilingualism in classes, and problem-based learning, among other topics.
"I think there's definitely a need for health educationalists to get together on occasions like this so that we can share our strengths and weaknesses," says conference organiser, Elmi Badenhorst, a lecturer in UCT's Department of Human Biology. "And I think a conference like this is a wonderful platform for just that."
As they did in 2004, the conference committee again, as an additional carrot, offered a whole bunch of awards to presenters. This year, the first prize of R10 000 was made to Professor Vanessa Burch, of the Department of Medicine, for her talk in which she proposed some changes to the increasingly popular but time-intensive portfolio-based assessment of students.
Certificates of merit were also awarded.
---
This work is licensed under a Creative Commons Attribution-NoDerivatives 4.0 International License.
Please view the republishing articles page for more information.
---