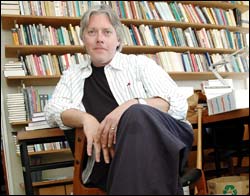 Finding his niche: "When I started studying I found something I could do and I was no longer a failure," says UCT's latest A-rated researcher Prof David Chidester.
A mere two hours after hearing that he had been acclaimed as a leading international researcher, unequivocally recognised by his peers for the high quality and impact of his work, Professor David Chidester stood in front of 500 first-year students in Jameson Hall and felt like a fool.
"There was no microphone and I was forced to do a 20 minute stand-up comedy act. I felt like an idiot," said the religious studies professor who is UCT's latest A-rated researcher.
"UCT has a way of keeping you humble," he added. And while he views the rating as an affirmation of good research, Chidester says it is "a good result from a suspect process".
"The process is suspect because it rewards hyper-specialisation. I've never thought of myself as a specialist and the thing about religious studies is that it is interdisciplinary and wide-ranging by nature."
Chidester's office is filled to the brim with books, but it is the pictorial pulchritude of five or so coffee-table titles lying on a small table that attract one's attention.
"I like to make books as objects. I like to look at them," he explains as he carefully strokes a smooth cover. "Books are also a way to bring closure to a subject. Once I've written a book, I can put away the subject and examine something else."
Besides a broad oeuvre published in the academic study of religion, Chidester has also edited publications on a variety of subjects.
These include a book on South Africa's Nobel Laureates and a collection of speeches by former president Nelson Mandela.
"I was privileged to present the book to Mandela on his 85th birthday," Chidester recounted. "I went up to him and said 'Madiba, I'm your editor' and in his characteristic deep voice he responded 'Oh'. I live with that inspiring sound every day."
A Californian who came to South Africa 21 years ago, Chidester describes himself as a high school graduate who simply wanted to play the guitar, meditate and not work for a living.
But it was his opposition to the Vietnam War that made Chidester re-examine his options, which included being exiled to Canada, going to jail or studying at university.
An introductory course on religious studies at a community college was a mind-blowing experience and Chidester was hooked.
Eventually, he enrolled at the University of California, Santa Barbara, to complete a master's degree and later a PhD.
"I come from a family of construction workers, but I was definitely a failure at that. I was also a failure as a musician, but when I started studying I found something I could do and I was no longer a failure."
The National Research Foundation rating recognises Chidester's creative and critical work in the study of religion, in which he has explored religious identity and diversity in North America, South Africa, and in the history of religions.
As director of the Institute for Comparative Religion in Southern Africa (ICRSA), Chidester and his team are dedicated to the postcolonial study of religion and religions.
---
This work is licensed under a Creative Commons Attribution-NoDerivatives 4.0 International License.
Please view the republishing articles page for more information.
---