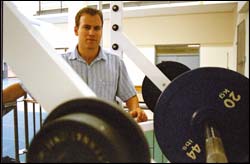 Unique design: PhD graduand Wayne Viljoen at the Nams unit.
It's been a big year for PhD graduand Wayne Viljoen. He popped the big question to Catherine Harrison-Smith, formally cemented the relationship a few weeks ago, and presented an innovative piece of equipment for his PhD project; a large piece of equipment that measures musculotendinous stiffness and the stretch shortening cycle muscle action, the topic of his thesis.
Housed in the Sports Science Institute of South Africa, the Nams (Neuromuscular And Musculotendinous Stiffness) unit rests on a force plate and is bolted into a square of reinforced concrete, the product of years of hard graft.
A local lad, Viljoen got his BSc from Stellenbosch in 1991 and moved to Pretoria to complete his honours degree in biokinetics, a field that held a growing attraction.
Studies done, he started up a biokinetics practice, keeping his hand in matters academic by lecturing at Tshwane University of Technology, formerly Pretoria Technikon.
It was a time of rapid growth, but Viljoen carefully counts the months in the Jacaranda City.
"I spent seven of my eight years there trying to get back to Cape Town," he jokes.
It was more than the lure of sea and mountain. He was sold on the UCT/MRC Research Unit for Exercise Science and Sports Medicine (ESSM) unit and its charismatic founder, Tim Noakes, Discovery professor of exercise and sports science, now on the NRF's A-rated listing.
At ESSM, Viljoen turned his passion for resistance training into research.
"A lot of research had been done around endurance-based training: runners, tri- athletes, swimmers and the like, but less on the strength and power side, and the more fascinating neuromuscular mechanisms involved," he explained.
It was while reading up on the muscle's stretch shortening cycle (when the muscle-tendon complex actively stretches and subsequently contracts in a cyclic fashion to create functional movement) that he stumbled on something new, a key component in the mechanical process, the elastic ability of the tendons, measured by force oscillation.
The question became the topic of his PhD thesis, his goal to identify the relationship between the mechanical characteristics of the muscle-tendon complex, and in particular the tendon elasticity or -stiffness and the shortening cycle muscle function.
"The stretch shortening cycle muscle action is an important part of dynamic muscle function and increases the muscle's performance by improving the force and power output as well as the mechanical efficiency of the working muscles when compared to isolated muscle function," Viljoen explains.
Although many factors contribute towards the stretch shortening cycle muscle action, tendon elasticity seems to have a predominant role in determining the stretch shortening cycle potentiation (or enhancement) of muscle performance. However, musculotendinous stiffness or elasticity is difficult to measure in vivo.
"Although several studies suggested an association between a more compliant (elastic) muscle-tendon complex, and enhanced stretch shortening cycle performance, these interpretations were inconclusive."
Viljoen's main aim in building the Nams unit was to identify the relationship between the mechanical characteristics of the muscle-tendon complex. He also needed equipment that could measure this in both the upper and lower body.
With the Nams unit, musculotendinous stiffness is measured using the oscillation technique, which uses the force oscillations after loading a muscle group in a semi-static position and applying a brief perturbation.
The machine was designed and built in collaboration with Zest Manufacturing, a local gymnasium equipment manufacturer, and comprises a custom-built computerised system, including a modified Smith machine, a force plate, and an attachable leg press unit with a load cell, a leg press seat section and an adjustable bench press bench. Although based on principles from previous research, the equipment followed a unique design with its own features and technology.
The force and EMG data collected by the machine allows Viljoen to not only differentiate muscle performance in both the upper and lower body, but he has been able to propose that the neuromuscular and elastic properties of the muscle-tendon complex may contribute in varying proportions towards the potentiation in muscle performance, this associated with the stretch shortening cycle muscle action.
Understanding the stretch shortening cycle muscle action, the interaction between muscle and tendon, and their combined roles in dynamic human movement, is key in the field of physical rehabilitation. This research will lead towards a more integrated approach in researching this complex mechanism in human movement, and will ultimately guide therapists, for example biokineticists, in their approach to final-phase rehabilitation.
Once machine and research came together, finding suitable examiners who specialise in the field proved more of a headache. It was Professor SP Sayers from the United States, Dr Ari Nummela of Finland, and Professor Dušan Hamar of Bratislava, Slovakia, whose expertise was harnessed and who finally gave the project a thumbs up.
"Though there are similar things in Europe and Australia, the equipment is unique because of all you can do with it," Viljoen adds. He's keen to see that it's put to work for honours research projects on muscle strength and power.
His PhD journey has also been remarkable in many other ways. The multi-disciplinary project has seen him foraging for information far beyond his field, in software programming, engineering (force plate technology), physics and force vibration.
Graduation will be a welcome relief after five years of slog. As for new plans, Viljoen is not thinking any further than stretching his own muscles, preferably on a beach somewhere.
---
This work is licensed under a Creative Commons Attribution-NoDerivatives 4.0 International License.
Please view the republishing articles page for more information.
---