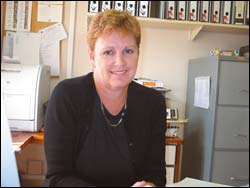 Hilary Buchanan, this week's Five-Star Staffer.
Sitting in her small office overlooking University Avenue, Hilary Buchanan sets about her daily tasks without much fuss (even though it is her birthday on the day of our interview).
Besides being assistant to the director of the Percy Fitzpatrick Institute of African Ornithology, Buchanan is also responsible for overseeing the administrative duties relating to the department's postgraduate students.
And it is for this work that she has been nominated as this week's Five-Star Staffer.
"She has a smile to light the darkest Monday," said Buchanan's colleagues. "She is technically the departmental administrator, but she does all sort of things for all sorts of people."
Having worked at UCT for nearly 10 years (and before that at the University of Port Elizabeth), Buchanan is au fait with higher education systems and procedures.
"She is so refreshing and cheerful all the time, always has a nice thing to say and is very knowledgeable about everything. I have often gone to her for advice on anything from salary forms to university procedures to fee advice," one of her colleagues noted.
"Our job is to be here for the students," Buchanan explained. "We are here to make their lives easier. I enjoy working with our group of postgrads. Because it's a smaller group it allows for more personalised attention."
Managing a large workload in a short period of time (she works mornings only) Buchanan's key to success is that she deals with issues as they arise.
"Otherwise things only get buried and the issue gets bigger. I also make a note of everything that happens so that I'm prepared the next time it comes along. I'm also fortunate that I work in a team with other support staff, such as Chris Tobler and Lionel Mansfield, without whom life would be very difficult."
With two teenage children, Buchanan spends most of her afternoons running around and says there is little time for much else.
"But I do enjoy reading," she quips.
For the dedicated staffer it is simply something she can do anywhere at anytime.
To nominate a Five-Star Staffer, please e-mail Nicole Chidrawi, nchidraw@bremner.uct.ac.za.
---
This work is licensed under a Creative Commons Attribution-NoDerivatives 4.0 International License.
Please view the republishing articles page for more information.
---