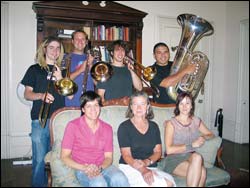 Winners circle: (From left, back) Ross McDonald, Jurie Swart, Matthew Willis and George Foster. (From left, front) James Baillieu, Morag Chisholm and Magdalene Minnaar. (Absent - Cara Hesse.)
Sir Arnold Bax once called former dean and director of UCT's South African College of Music for 19 years, Dr Erik Chisholm, "the most progressive composer that Scotland has ever produced".
In celebrating the centenary of his birth on January 4, 1904, the SACM joined an international programme of events, including national recital tours in the United Kingdom, designed to commemorate the Scot and his body of work. His music took many forms - instrumental and orchestral, opera and ballet.
His gift for composition was manifest in his early teens. In World War 2 he became director of music in the East Asiatic Command, to bring music to the troops in India and Singapore. When he came to South Africa, his teaching and inspirational skills came to the fore as well as his gift for inspiring others to make music.
While living in South Africa he composed six of his twelve operas. He also established the UCT Opera Company in 1951 and the Opera School in 1954.
As the centenary years draws to a close, students of the SACM competed in the Chisholm Centenary Competition, held at the Baxter Concert Hall earlier this month. In South Africa to oversee this part of the local commemoration was Chisholm's biographer, one of his daughters, Morag, from the Isle of Wight.
Earlier this year, Professor Angelo Gobbato presented Summer School lectures on Chisholm, followed by a short season of two Chisholm operas at the Little Theatre.
Bringing his musical legacy to life, each finalist performed Chisholm's works as well as something of their own choice. The winners were: Magdalene Minnaar (soprano) and James Baillieu (piano plus one other instrument and voice); Cara Hesse (piano); and Matthew Willis (trombone), Ross McDonald (trombone), Jurie Swart (trombone) and George Foster (tuba).
---
This work is licensed under a Creative Commons Attribution-NoDerivatives 4.0 International License.
Please view the republishing articles page for more information.
---