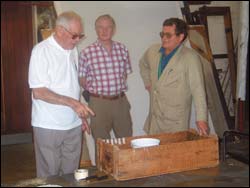 All at sea: WW2 veteran Geoff Kitchen (left) describes the old naval intelligence operations room once housed in the Little Theatre workshop. With him is Ken Crosskey, also from the UK, and workshop manager Keith Christian.
A trip down memory lane for a veteran of World War 2 turned up an interesting fragment of history at UCT's Orange Street campus.
Former Royal Marine Geoff Kitchen, whose ship the HMS Dorsetshire was sunk off Ceylon in 1942, visited Cape Town on a scheme sponsored by the National Lottery in the United Kingdom to give veterans the chance to return to the places they served in during WW2.
On Kitchen's list of sites to visit was UCT's Orange Street campus, once the Royal Navy's intelligence headquarters, which he once visited regularly to make reports.
The HMS Dorsetshire was sunk by the Japanese in an air attack on Easter Sunday, 1942. The men who survived the attack spent 30 hours in the shark-infested waters of the tropical Indian Ocean before their rescue. The wounded Kitchen was sent to Durban for treatment and then posted to Cape Town to complete his recovery. It was here he was assigned to naval intelligence, housed in the building adjoining the Little Theatre.
On his most recent visit, it took Kitchen a few minutes to get his bearings, but he recalled vividly the naval intelligence operations room - which he later recognised as the current workshop for the Little Theatre.
He described how the top-secret ops room had a large table in the centre depicting the coastline of South Africa with wooden ships used to pinpoint the location of the fleets rounding the Cape. Ships that fell victim to U-boats were knocked off the table by naval staff wielding long pointers used to arrange the wooden replicas.
As one who had been reprieved from the privations of life at sea, Kitchen had very fond memories of Cape Town, and also recalled encountering Just Nuisance, the Great Dane which famously accompanied sailors from Simons Town on their forays into central Cape Town.
Also among the visitors to the UCT campus were Ken Crosskey, whose deceased father Cecil Crosskey was among the survivors of the HMS Dorsetshire, and George Donaldson, the partner of another survivor, Percy Thompson. Sadly, Thompson died of lung cancer two weeks prior to the Cape Town visit that he had been instrumental in putting together.
Thanks to friendly welcome from June Wells and Little Theatre workshop manager Keith Christian, the party of English visitors was treated to tea and an impromptu tour of the workshop and theatre, before heading off to explore more of Cape Town. Their next leg was a trip to Durban where they had arranged to go out to sea for a memorial service.
---
This work is licensed under a Creative Commons Attribution-NoDerivatives 4.0 International License.
Please view the republishing articles page for more information.
---