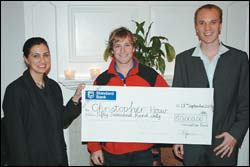 Winning ideas: Prof Cheryl de la Rey with winning UCT student Chris Haw (middle) and JP Kloppers of the UCT Tech office.
A highly-successful UCT Innovation Competition, aimed at promoting entrepreneurship among students, has delivered three winners who now stand to win R300 000 in a national competition.
The competition, for the best novel technological innovation and business plan, attracted 25 entries. It was run by UCT Tech and the Innovation Fund.
The winners were Chris Haw, who took home R50 000 and the first prize for inventing a level-control sensor for the platinum mining industry; Clive Garcin, who won R30 000 for developing a method of extracting a valuable antioxidant from olives; and Jonathan Kruger, who won R20 000 for developing a novel software game to help school teachers bring innovation and fun into the classroom.
The response from the judges was that all of the business plans submitted in the competition were of a very high calibre. They were disappointed that only three winners would be allowed to go through to the national phase of the competition.
At the awards ceremony at Welgelegen on UCT lower campus, deputy vice-chancellor Professor Cheryl de la Rey said she was encouraged about the impact the competition was having on students at UCT.
The competition was split into two phases with R100 000 in prize money being allocated to each of the 19 participating tertiary institutions. Flyers went out, posters went up, e-mails were sent and advertisements were placed in the local student papers. Three business plan development workshops were run in July and August, designed to help students formulate their ideas and then express them in a well thought-out business plan, which they were required to submit for the competition.
UCT Tech was started by Professor Jon Tapson and Jean Pierre Kloppers midway through 2003. The vision of UCT Tech is to grow and cultivate a spirit of entrepreneurship at UCT and to help students start viable businesses out of their ideas.
Tapson and Kloppers then approached Philip Marais of HBD Upstarts to partner with them to launch the UCT Tech office. Mark Shuttleworth (who started HBD Venture Capital) liked the idea and agreed to fund it.
---
This work is licensed under a Creative Commons Attribution-NoDerivatives 4.0 International License.
Please view the republishing articles page for more information.
---