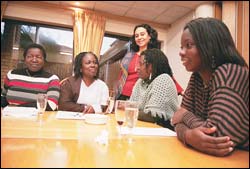 Frontier women: (From left) Alexina Arthur, Prof Takyiwaa Manuh, UCT's Prof Amina Mama (standing), Dr Sylvia Tamale and Dr Akosua Darkwah are among the feminist scholars tackling the controversial subject of African sexualities in a raft of new studies.
It's a touchy subject, and those who broach it are likely to ruffle a couple of feathers. But a group of feminist scholars from around Africa are not cowed, and have decided it's time to take the wraps off the issue of African sexuality.
As part of a broader project on Strengthening Gender and Women's Studies for Africa's Transformation, the university's African Gender Institute (AGI), in collaboration with the University of Ghana, recently hosted a workshop for key scholars and researchers from Africa to launch a new study, Mapping Sexualities. The catch-all theme for the project, the details of which were thrashed out at the UCT meeting, will be the thorny one of African sexualities.
The work will be composed of a series of individual studies undertaken by the academics and their researchers. For instance, Dr Charmaine Perreira, an independent scholar from Nigeria, will explore the case of Amina Lawal, the Nigerian woman who was almost stoned for bearing to a child out of wedlock, and the links between Shari'ah (Muslim) law and lapidation - aka stoning - in the country, a practice that some say has no historical credentials there. Then documentary filmmaker and television producer Yaba Badoe will turn her lens towards a coven of witches in northern Ghana. Badoe's compatriots Alexina Arthur and Dr Akosua Darkwah, both of the University of Ghana, will in turn look into the crop of virgin clubs sprouting up around the West African country, started up among school children who must be HIV-negative and who pledge to stay chaste until they are certain they have established a monogamous relationship with a faithful partner. The AGI's own Dr Elaine Salo will stick close to home, conducting a study on the shaping of masculine and feminine identities on South African university campuses.
According to Professor Amina Mama, chair of gender studies at UCT, the new project fills a gaping scholarly vacuum. While plenty of research has been done outside the continent on the topic of African sexualities, the partnership marks the first time that the issue will be tackled from a pan-African feminist perspective, with Mama overseeing the project with Professor Takyiwaa Manuh, director of the Institute of African Studies at the University of Ghana. The research will also feed into teaching at the respective African universities.
Sexuality as a topic has often been overlooked in developmental and cultural studies on the continent, says Mama. "Yet it is a major source of cultural and gender identity. If you don't take it seriously, our development plans and strategies will be empty of the realities of life and culture."
Considering the choice of subjects - and the backdrop of rising violence, some institutionalised, against women - the findings are bound to cause a stir in many quarters. "For professional academic women, it's the kind of topic that provokes controversy," says Mama. "Women engaged in that kind of work have to be prepared to take a certain risk."
It's one, however, they appear to deem necessary.
---
This work is licensed under a Creative Commons Attribution-NoDerivatives 4.0 International License.
Please view the republishing articles page for more information.
---