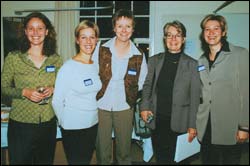 Seen at the opening of the Gender, Health and Justice Research Unit were, from left, Dee Smythe, Kelley Moult, Dr Lorna Martin from the forensic medicine and toxicology division, Amnesty International's Mary Rayner and unit director Lillian Artz.
The integration of medical, criminal justice and social research related to violence against women is the vision of the newly established Gender, Health and Justice Research Unit.
Based within the health sciences faculty at Groote Schuur Hospital, the unit hopes to produce integrated responses from both the state and civil society.
Speaking at the launch of the facility, deputy vice-chancellor Professor Cheryl de la Rey said violence against women is the most intractable issue our society has to face.
"The sense of potential threat to her safety is a tension every woman feels at some time in her life as she walks in public spaces, and too often, also in her home. These experiences differentiate us from our male colleagues. If we need protection, then it means we are potential victims and so I sincerely hope that this unit, which brings together justice, policing, health and social services, will succeed."
Until earlier this year, three members of the unit's core team, Lillian Artz (director of the unit), Dee Smythe and Kelley Moult, were part of the law faculty.
Criminal law professor P J Schwikkard said that although the faculty was sad to lose the vibrancy they brought to their work, the team's move to health sciences was a positive one.
"In the last 18 months, the team's growing interdisciplinary approach has had an enormous impact, from the Law Commission to portfolio committees to NGOs. You are, and will continue to be, a great credit to the community of academics."
One of the unit's projects focuses on post-exposure prophylaxis for rape victims.
"It is our intention to get a course on forensic nursing certified so that the work of these specialists can receive the recognition it deserves," said the unit's executive director, Professor Lynette Denny.
Made possible through the generosity of UCT, First National Bank, the Open Society Foundation and UNICEF, the unit works closely with government to improve state responses to violence against women. As such, a number of government officials, including Joyce Maluleke, director of the Gender Directorate in the Department of Justice, were present at the launch.
---
This work is licensed under a Creative Commons Attribution-NoDerivatives 4.0 International License.
Please view the republishing articles page for more information.
---