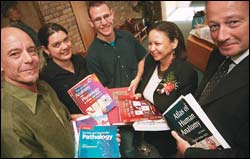 An open book: (From left) Assoc Prof Graham Louw, Karen Metcalf of Elsevier, student Jonathan Naude, deputy dean Assoc Prof Gonda Perez and Mike Brightmore of Academic Marketing Services show off some of the medical titles that the faculty of health sciences bought in bulk recently.
Jonathan Naude thinks medical studies at UCT is just about the best thing since, well, penicillin.
But like many of his fellow students, he is always a little strapped for cash. In addition to fees - and medical studies never go for a snip - the faculty of health sciences' three-year old problem-based learning curriculum, which stresses self-study, also puts more demands on students' wallets, especially when it comes to buying textbooks.
"There are more books that are needed as you cover so many different areas of medicine," says Naude, a member of the first class at UCT to move onto the new curriculum, now three years into the programme. A complete set of prescribed books would set a student back close to R7 500. This led instead to a run by about 200 students on, in some subjects, two textbooks in the medical library.
"A huge proportion of the class doesn't have the finances to buy books," says Naude. Looking for a way around the situation, he approached Associate Professor Graham Louw of the Department of Human Biology last year to moot the bulk purchase of some of the prescribed works. Working from an initial catalogue of books that departments thought students should have access to and running a survey among students on what texts they thought most useful, Louw and Naude drew up a wish list that they then took to the dean, Professor Nicky Padayachee.
Within a year, Padayachee, deputy dean Associate Professor Gonda Perez and their fundraising team had scared up around R400 000 from bequests coming into the faculty. Recently, the faculty used that money to buy 900-odd books, including multiple copies of a few titles, through suppliers Academic Marketing Services in Johannesburg and Elsevier publishers in Somerset West. In addition to kicking in with some substantial discounts, Elsevier also donated a few copies of textbooks, ones going out of print, to some students.
The faculty is breaking new ground with the bulk buy, say some. "It's the first time I can recall any school or university doing something like this," says Mike Brightmore, managing director of Academic Marketing Services. Dr Vanessa Burch, chair of the MBChB programme committee, described the venture as the single biggest success story of the new curriculum.
Most of the texts are going onto the short-loan or open shelves in the medical library, while some are headed for the problem-based learning tutorial room. "The books will make a huge difference - absolutely massive," says Naude.
Just what the doctor ordered.
---
This work is licensed under a Creative Commons Attribution-NoDerivatives 4.0 International License.
Please view the republishing articles page for more information.
---