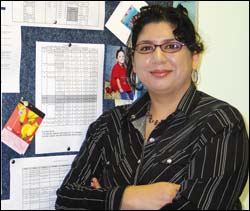 Gadija Allison
This week's Five-Star Staffer Gadija Allison describes herself as a "to-do list person" who always maintains an open-door policy.
"My work involves being able to juggle more than ten things at the same time and because of this I need to keep lists of what needs to be done and when. I also like to be accessible to my staff at all times so my door is seldom closed."
Allison, the administrative officer in the School of Economics, explained her job requires that she know something about everything.
"I need to have a good understanding of all areas be it human resources, marketing, financial or management issues. This keeps me busy and ensures I don't get bored."
Nominated by Associate Professor Anthony Black, director of the school, Allison is praised for her dedication to her job and her skills in dealing with both staff and students.
"Gadija is always sparking with new ideas and has her finger on the pulse of developments in the school and, more widely, in the university. I rely on her extensively for advice and support." Responsible for the administration of one of UCT's largest academic departments, Allison said she is always trying to find more efficient administrative and operating processes.
"I'm constantly thinking of new ways of doing things and growing the department. I'm passionate about streamlining systems and procedures. It's also important that my staff are encouraged to develop their skills. I will always try to find a way to help them grow as people.
"A large part of where I am today is due to the people I work with," Allison continued. "We work well as a team and while I may come up with new plans, my staff are the ones responsible for successful implementation. I'm also fortunate I work for a department where people go out of their way to praise hard work."
When she is not in the office ensuring everything is on-track and running smoothly, Allison can be found spending time with her five-year old daughter and her husband. She also enjoys reading and walking on the mountain.
And as if she wasn't busy enough, Allison plans to enrol for the Associate in Management (AIM) programme at UCT's Graduate School of Business next year.
---
This work is licensed under a Creative Commons Attribution-NoDerivatives 4.0 International License.
Please view the republishing articles page for more information.
---