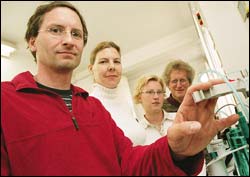 Rolling stones: Dr Norbert Laube (far left) and Diana Zimmerman (second from right) from the University of Bonn visited UCT to assist Prof Allen Rodgers and Dr Sonja Lewandowski with their research into kidney stones.
Many women may disagree, but the pain of passing a kidney stone - they usually get shoved out through the narrow urinary tract - has often been compared to the pain of childbirth.
Kidney stones are formed when the concentration of minerals and substances like calcium oxalate, phosphate, oxalic acid and uric acid are too high in the urine. These then break out of the urine and begin to pack onto each other, or crystallise, in the kidneys, becoming what are known as kidney stones. Some stones are as small as a grain of sand, others the size of golf balls or even, in extreme cases, a hand-sized rock. Although hardly ever fatal, kidney stones cause agony and health complications for millions around the world. The condition is more common in western countries, where it afflicts about 10-15% of the general population. But it's not confined to western countries, and also lays low about 20% of the populace of Saudi Arabia and the United Arab Emirates. White South Africans develop the stones at about the rate of most westerners.
But there is one very large group that appears to be all but immune to the condition, and who may bring hope to sufferers across the globe. Studies have shown that less than 1% of black South Africans (Africans in UCT terminology) develop kidney stones. It's a uniquely South African phenomenon. The further north up the continent you head, the more common kidney stones become.
Now UCT's Professor Allen Rodgers and postdoctoral researcher Dr Sonja Lewandowski, both from the pointedly-named Kidney Stone Research Laboratory in the chemistry department, are trying to see why Africans are so good at checking kidney stone-growth. The key, they suspect, may be found in a number of proteins - one called prothrombin fragment 1 is of particular interest - found in the urine, and which prevent the formation of crystals. The proteins in the urine of black South Africans just appear to be better at the job than the proteins in the urine of other groups. If it's shown that these proteins are in fact the answer to the problem, one possible way of combating the forming of kidney stone would be to safely increase them in those prone to the condition, proposes Rodgers.
All shapes and sizes: Dr Sonja Lewandowski, flanked by Prof Allen Rodgers, shows some of the kidney stones the UCT lab has in its collection.
But it's going to take a lot more work to find out exactly what the role of these proteins is, and to determine exactly who is more likely to develop stones. For the latter, Rodgers has turned to Dr Norbert Laube of the division of experimental urology at the University of Bonn in Germany. Laube has developed a protocol - known as the Bonn Risk-Index - that Rodgers believes is the most "powerful and reliable" test around to pinpoint which individuals are at high risk, and which not.
Laube's protocol requires the use of a piece of new equipment that the UCT lab has now bought with funding from the Volkswagen Foundation. The machine - three rolled into one, actually - is hinged around a photometer that can pick up microscopic crystals in urine. Laube visited UCT recently to set up the machine and explain the ins and outs of his protocol. For this new study, also funded by Volkswagen, the researchers will use a triggering solution, made up of the usual suspect substances, and grow crystals in the urine samples of its black and white subjects. The lower the amount of triggering solution required to form kidney stones, the higher the risk, explains Laube.
While scientists are pretty clued up as to how kidney stones form and what minerals and elements they're made up of, they're on less sure footing when explaining why some people are at greater risk than others. Diet appears to be a prime candidate. Which is why Laube was joined by a PhD student at Bonn, Diana Zimmerman, a qualified dietician who was here to show the UCT researchers their way around a novel test that measures how much chemical oxalate is absorbed in the gut, another clue to the cause of kidney stones and part and parcel of the new UCT study.
Despite the emphasis on nutrition, it's generally accepted that diet doesn't explain all, says postdoc Lewandowski, also a qualified dietician. "Blacks actually have things in their diet that put them at more risk." So researchers are casting their nets wide. Factors such as lifestyle, climate, biochemistry and even genetics could play a role. "We're looking in all directions," adds Lewandowski, "from diet to microbiology to the biochemistry of the urine."
There's agreement among the group, however, that black South Africans and their resistance could well hold some valuable answers. "If you find the reason behind the phenomenon," says Laube, "you can try and find a better diet for other people, or you can try and develop medicines or something like that - this is classic science."
Classic science it may be, but it's going to be a long, hard slog for the researchers. One thing's for sure, though - they're going to leave no stone unturned in their efforts.
---
This work is licensed under a Creative Commons Attribution-NoDerivatives 4.0 International License.
Please view the republishing articles page for more information.
---