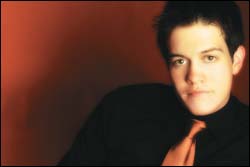 James Baillieu.
The second meeting with music student James Baillieu has been some time coming.
The last time he made the news was in 2003 after winning the Rachmaninov piano competition in Stellenbosch. He also collected one of three scholarships from the Golden Key International Honour Society. Quite memorable for a young man who began playing the piano at the advanced age of 12 after an occupational therapist recommended he improve his hand-eye coordination.
Since then, a string of awards has put Baillieu on a ladder to big things.
This time the pianist is celebrating - in his characteristically humble way - honours at the International Russian Piano competition in San Jose, California, collecting a scholarship to study at the Vienna International Pianists' Summer Academy in July next year. There he will perform concerts and receive master classes.
Competing among 90 pianists from 17 countries, Baillieu was placed fifth, the only African in the competition - and the only male in the top five (the first three places went to Russian pianists and fourth place was won by a Korean). During his travels he performed and received master classes in San Francisco, New York and London.
Back home and well into the academic routine, it is Graham Fitch he talks of, his mentor and teacher at the South African College of Music. They work together for two hours every day. "He's such a good teacher. He gives as much as he can," Baillieu adds.
The Russian competition in San Jose was "hectic".
"Arriving after 12 hours in the air, one of the Russian pianists told me she'd only practiced 12 hours that day." Playing a repertoire of Bach, Liszt, Beethoven, Rachmaninov, Medtner and Gottshalk, Baillieu said there had been some gratification in beating her.
The judges liked the freshness of his style and his communication of the pieces.
"We don't have the same traditions dating back 300 years, so my playing had more of a personal touch."
Of course there were the inevitable "You're from Africa? Do they have pianos in Africa?" responses when he met his overseas peers.
Baillieu hopes to do his master's degree in New York once he has wrapped up his studies in Cape Town (with a promise to return). "There's so much happening there."
"Three years ago I had no idea this would happen," he marvels.
---
This work is licensed under a Creative Commons Attribution-NoDerivatives 4.0 International License.
Please view the republishing articles page for more information.
---