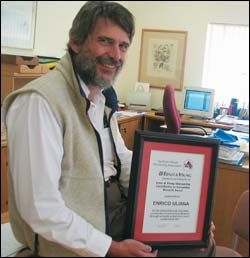 Money talk: Prof Enrico Uliana, winner of the Ernst and Young Outstanding Contribution to Accounting Research Award, presented by the Southern Africa Accounting Association.
July has been a good month for UCT's executive director of finance. Not only did Council give the nod to renewing his contract by another five years (from January 1, 2005), but Professor Enrico Uliana also won the Ernst and Young Outstanding Contribution to Accounting Research Award, presented by the Southern Africa Accounting Association in Durban.
It rewards substantial and consistent contributions to accounting literature through scholarly endeavours over a sustained period.
Straddling two worlds, Uliana occupies a unique position: he's both an academic and a financial manager, housed in the administrative hub at Bremner. By day he keeps an eagle eye on UCT's bottom line and by night he lectures and supervises students. Presently, he has one PhD, with two others in the pipeline and a "plethora" of master's students (three of them from Eritrea), all in financial management. Last year he graduated two PhDs (from Kenya and Zimbabwe).
"I'm lucky I don't need a lot of sleep." Bedtime reading (at around 03h00) is often a thesis.
His academic interest and research has focused on the interface between theory and practice. As executive director of finance, Uliana can apply his academic knowledge and explore new ideas. "I have a large laboratory!" In fact some of his administrative colleagues are collaborators on research papers.
In a recent newsletter to staff, vice-chancellor Professor Njabulo Ndebele described Uliana as the architect of a re-evaluation of UCT's accounting systems and budgeting methods, a process that took the institution from a large deficit to a "much healthier" fiscal position.
He is matter-of-fact about his achievements, notably getting UCT's back into the black, a "brief status", following a lengthy period in deficit. His immediate task is to stabilise the university's finances once again after the significant costs attached to the salary revamp.
UCT's financial reserve is "painfully small" in relation to its operations. "We run very close to the margin."
But he is optimistic. UCT has a good handle on its finances.
"We have a sense of the underlying financial position and the risks we face. We have redesigned the reporting systems to reflect the financial status of units throughout the university and measures that should provide early signals of problems in our day-to-day operations."
He is proud of his achievements but even prouder of his staff, who are dotted about the campuses and who perform sometimes unnoticed feats. The positive and creative approach shown by the finance staff has been a valued support in our progress thus far.
Today, hours before the Council meeting to elect the new chair and vice-chair, Uliana shows his shoes, hardy and trendy Caterpillar boots. He's blotted out the distinctive yellow label with black khoki, to look smart, out of respect for the Council members. He is the financial head after all. The footwear carries a "smart" price tag but Uliana bought them half price at a warehouse sale. A canny financial man.
---
This work is licensed under a Creative Commons Attribution-NoDerivatives 4.0 International License.
Please view the republishing articles page for more information.
---